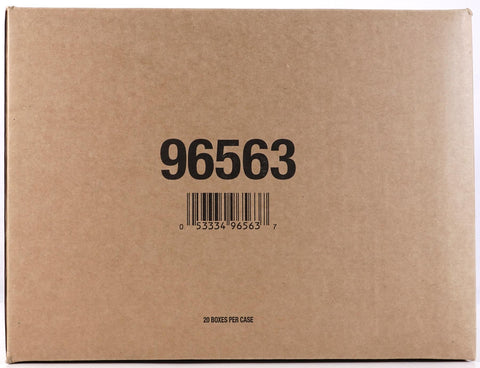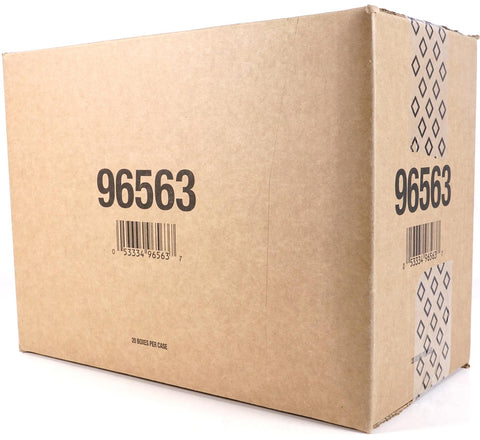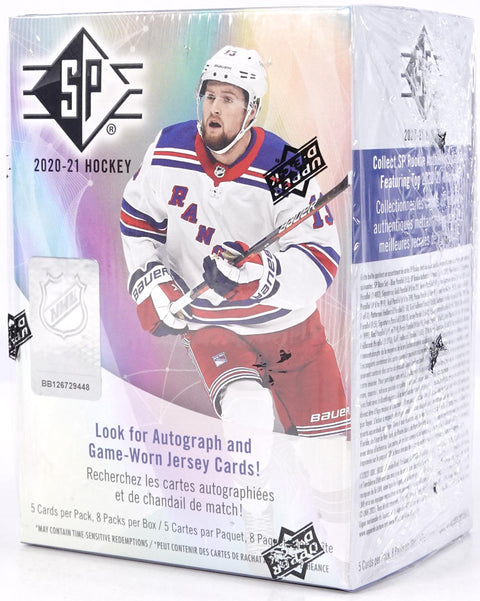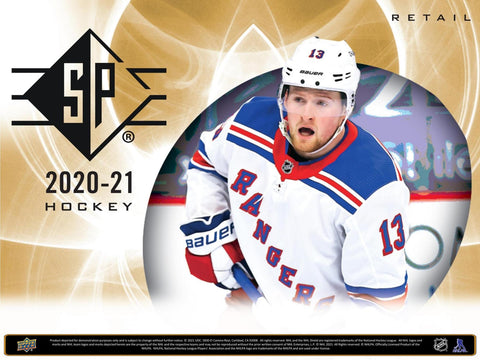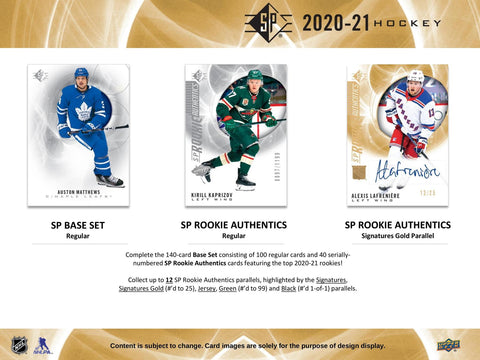 Upper Deck
2020/21 Upper Deck SP Hockey 8-Pack Blaster

Each Box contains Eight SP Rookie Authentics and/or Authentic Profiles Blue Parallels, Six SP Base Set Blue Parallels, and One #'d SP Rookie Authentics or Authentic Profiles Card!
Look for Autographs and Memorabilia Cards!
Complete the 140-card Base Set consisting of 100 regular cards and 40 serially-numbered SP Rookie Authentics cards featuring the top 2020-21 rookies! Collect up to 12 SP Rookie Authentics parallels, highlighted by the Signatures, Signatures Gold (#'d to 25), Jersey, Green (#'d to 99) and Black (#'d 1-of-1) parallels.
Collect serially-numbered Authentic Profiles insert cards featuring some of today's biggest superstars! Build up to 11 parallel sets as well, including the Signatures, Jersey (featuring game-worn jersey swatches), Purple (#'d to 75), Green (#'d to 25) and Black (#'d 1-of-1) parallels.
Bolster your autograph collection with super rare SP Authentic Signatures cards!
*All rookie content is based off of players who qualified for rookie card status as of Feb. 12.

PRODUCT BREAKDOWN:
Autograph & Memorabilia Cards

SP Rookie Authentics - Signatures Parallel 1:300
SP Rookie Authentics - Signatures Gold Parallel #'d to 25
SP Rookie Authentics - Jersey Parallel 1:24
Authentic Profiles - Signatures Parallel 1:1920
Authentic Profiles - Jersey Parallel 1:720
SP Authentic Signatures 1:960
Regular Insert Cards (w/ Parallels):
Authentic Profiles #'d to 649
Authentic Profiles - Blue Parallel 1:5
Authentic Profiles - Silver Spectrum Parallel #'d to 599
Authentic Profiles - Gold Parallel #'d to 399
Authentic Profiles - Red Parallel #'d to 199
Authentic Profiles - Purple Parallel #'d to 75
Authentic Profiles - Green Parallel #'d to 25
Authentic Profiles - Black Parallel #'d 1-of-1
Authentic Profiles - Patterned Foilboard Parallel 1:200
Authentic Profiles - Gold Tint Patterned Foilboard Parallel 1:500
Regular Base Set Cards (w/ Parallels):
SP Base Set (1-100) N/A
SP Base Set - Blue Parallel 1:2
SP Rookie Authentics (101-140) #'d to 1199
SP Rookie Authentics - Blue Parallel 1:2
SP Rookie Authentics - Silver Spectrum Parallel #'d to 999
SP Rookie Authentics - Gold Parallel #'d to 799
SP Rookie Authentics - Red Parallel #'d to 499
SP Rookie Authentics - Purple Parallel #'d to 299
SP Rookie Authentics - Green Parallel #'d to 99
SP Rookie Authentics - Black Parallel #'d 1-of-1
SP Rookie Authentics - Patterned Foilboard Parallel 1:50
SP Rookie Authentics - Gold Tint Patterned Foilboard Parallel 1:125

20 Boxes Per Case, 8 Packs Per Box, 5 Cards Per Pack