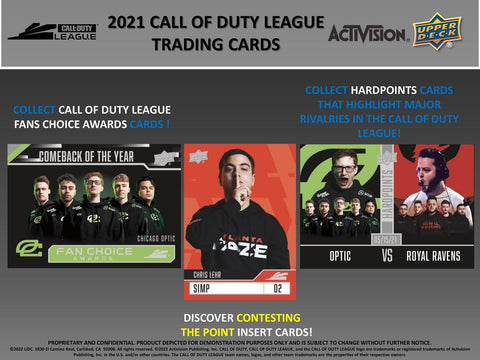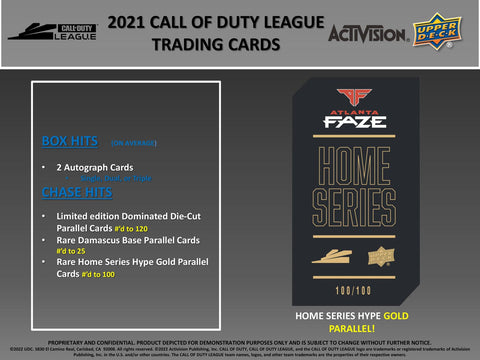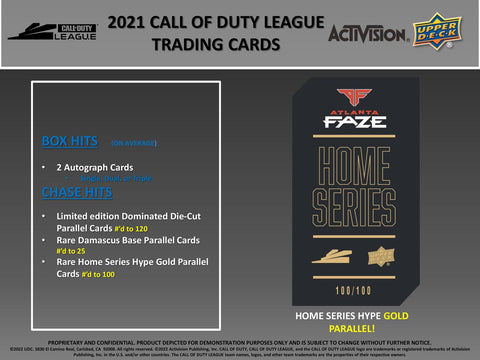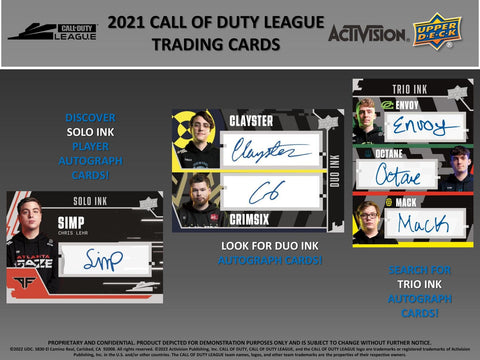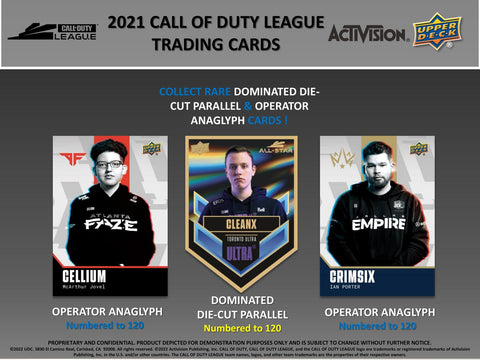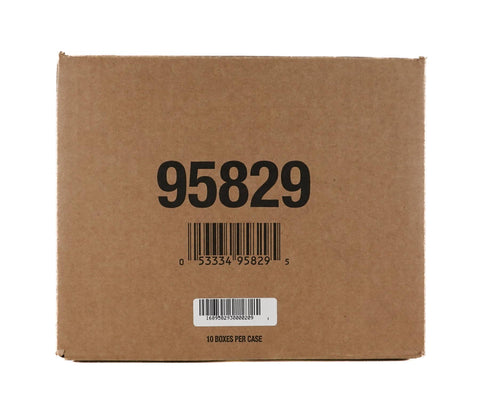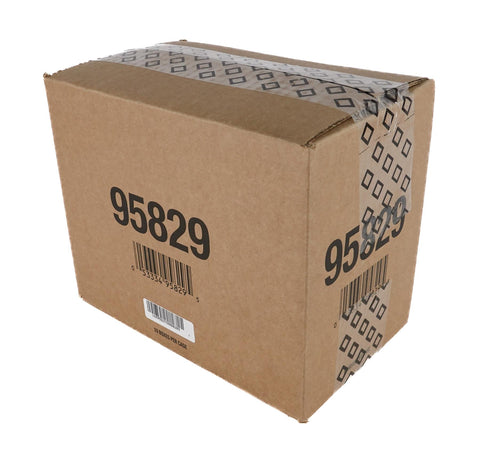 Upper Deck
2021 Call of Duty League Hobby (Upper Deck 2022)
2021 Call of Duty League Trading Cards highlights Season 2 of the Call of Duty League, featuring key players such as Call of Duty legends Scump, Clayster & Crimsix! This set also celebrates the inaugural Season 1 Champs the Dallas Empire, with a limited edition Championship Ink card numbered to 25 that features autographs from the championship squad! Collect the first ever official Call of Duty League Trading Card Set!
- 90 card base set and subset featuring player's across the 12 different Call of Duty League teams!
- Collect player autograph cards! Look for Single, Dual & Triples!
- Collect Call of Duty League Dominated Die-Cut Cards!
- Discover limited edition Parallel Versions.
- Each Hobby Box contains 2 Autographs! (on average)
- Look for Rare Damascus Base Parallel cards!
- Find Limited Edition Champion Ink cards!


PACK HITS (on average)
- [10] cards from the following:
Base Set Player, Maps and Team Checklists
- [5] Insert Cards from the following:
Operator, Hardpoints, Contesting The Point, CDL Fan Choice Awards, Home Series Winners / Playoffs / Champs / Champions, Home Series Hype Silver and CDL Retro


BOX HITS (on average)
- [2] Autograph Cards (Single, Dual or Triple)
- Dominated Die-Cut Card
- Operator Anaglyph Parallel Card


CHASE HITS:
- Limited Edition Dominated Die-Cut Parallels
- Rare Damascus Base Parallel Cards
- Rare Home Series Hype Gold Parallel Cards
- 1 of 1 Loadout Relic Redemption Card


Configuration: 10 boxes per case, 10 packs per box, 15 cards per pack