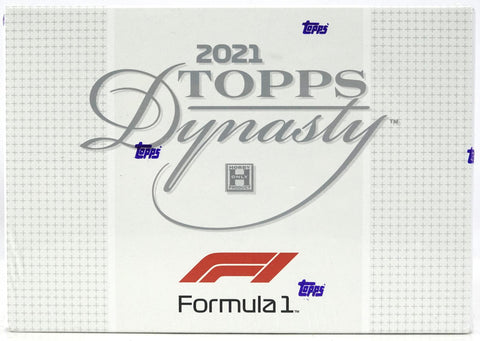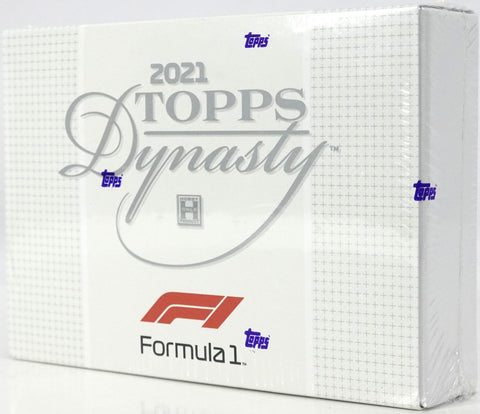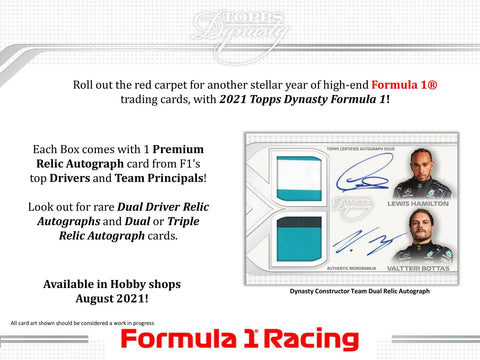 Topps
2021 Topps Dynasty F1 Formula 1 Racing Hobby

Each Box contains One Premium Encased Autograph Memorabilia Card!
Roll out the red carpet for another stellar year of high-end Formula 1 trading cards, with 2021 Topps Dynasty Formula 1!
Each Box comes with 1 Premium Relic Autograph card from F1's top Drivers and Team Principals!
Look out for rare Dual Driver Relic Autographs and Dual or Triple Relic Autograph cards.

PRODUCT BREAKDOWN:
Dynasty Autographed Patch Cards: #'d to 10
- Red Parallel - #'d to 5
- Black Parallel - #'d to 2 NEW!
- Gold Parallel - #'d 1-of-1
Dynasty Autographed Suit Nameplate Patch Cards: #'d to 2
- Jumbo Patch Variation - #'d 1-of-1
Dynasty Autographed Suit Flag Patch Cards: #'d to 4
- Jumbo Patch Variation - #'d 1-of-1
Dynasty Autographed Racing Glove Patch Cards: #'d to 10
- Jumbo Patch Variation - #'d 1-of-1
Dynasty Autographed Suit Zipper Cards: #'d to 4
- Jumbo Patch Variation - #'d 1-of-1
Dynasty Constructor Team Dual Relic Autographed Cards: #'d to 10
- Red Parallel - #'d to 5
- Gold Parallel - #'d 1-of-1
Dynasty Single-Driver Dual Relic Autographed Cards: #'d to 10
- Red Parallel - #'d to 5
- Black Parallel - #'d to 2 NEW!
- Gold Parallel - #'d 1-of-1
Dynasty Single-Driver Triple Relic Autographed Cards: #'d to 10
- Red Parallel - #'d to 5
- Black Parallel - #'d to 2 NEW!
- Gold Parallel - #'d 1-of-1

5 Boxes Per Case, 1 Encased Auto Patch Per Box