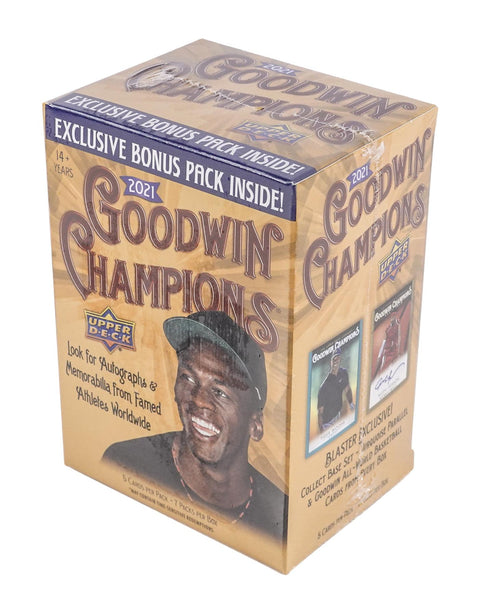 Upper Deck
2021 Upper Deck Goodwin Champions 7-Pack Blaster

Look for Autograph and Memorabilia Cards! Each Box contains One Platinum Variant, Four Turquoise Parallels, and One Goodwin All-World Basketball Card!
Collect BLASTER EXCLUSIVE Turquoise Parallels and Goodwin All-World Basketball Cards!
The 150-card Base Set features a fresh design & some of the greatest athletes in the world. The set features 100 regular cards (1-100) and 50 Splash of Color SP cards (101-150).
Every box contains at least One Platinum Variant Card, on average, and the Neon Green parallel cards fall one (1) in every four (4) boxes, on average.
More Blaster Exclusive content! Collect the Goodwin All-World Basketball set featuring legends of the game, active stars and promising prospects. Keep an eye out for a wide variety of parallels, including two (2) autograph parallels - highlighted by the 1-of-1 Auto Black parallel!
NEW! Feathered Creatures is a five-tiered aggregation of embroidered manufactured patch cards commemorating birds (domestic & wild) from around the world. Their beauty, artistry and rarity will make this unique 100-card set a welcome addition to your collection.
Look for a variety of popular hard-signed autograph sets, including Goodwin Autographs, Goudey Autographs, Splash of Color Autographs and the two-tiered 2003-04 Retro SPA Rookie Authentics Autographs!
NEW! 2021 Goodwin Champions boasts a new set of Goodwin Playing Cards featuring original art and vibrant technology. Collect one playing card per box, on average.
There is no shortage spectacular relic sets in this year's edition, including Historic United States Currency Relics, Centuries of Progress - World's Fair Relics, Impactful Legacies Vintage Stamps, and two new Museum Collection sets - Lady Luck Relics and Legendary Ship Relics. The Legendary Ship Relics cards commemorate the famed USS Constitution and are #'d to just 25!

20 Boxes Per Case, 7 Packs Per Box, 5 Cards Per Pack