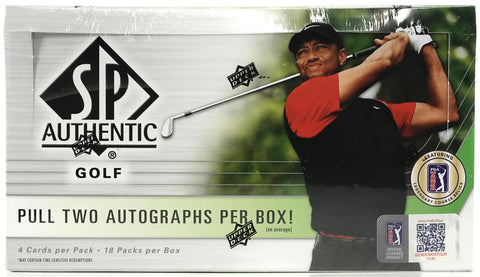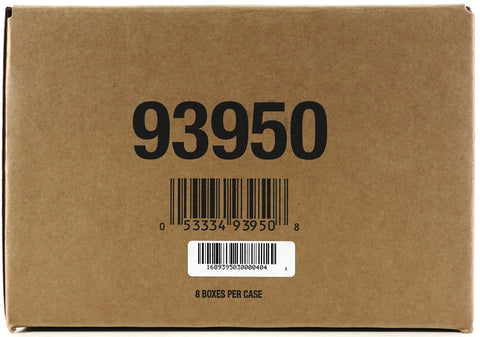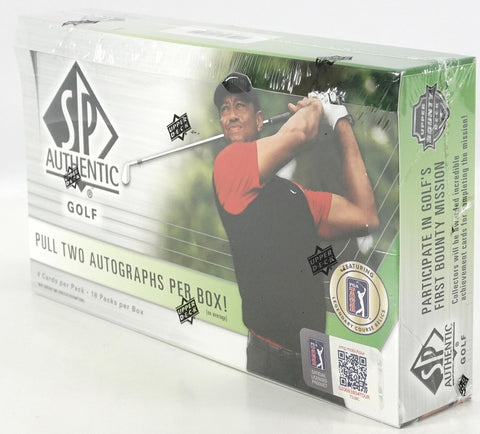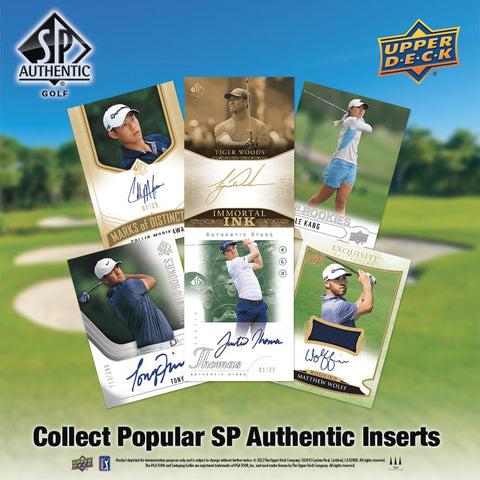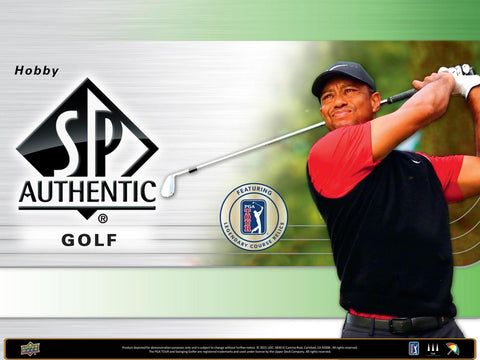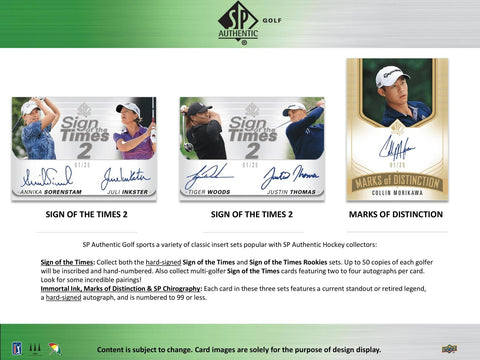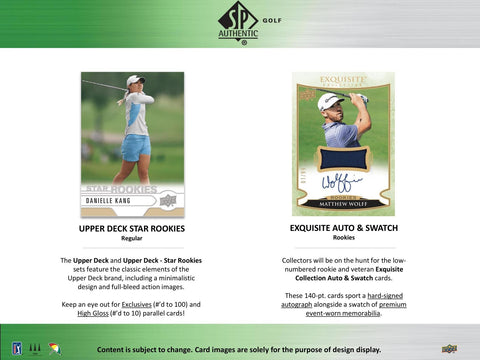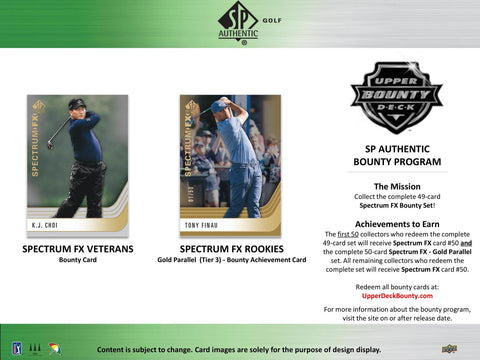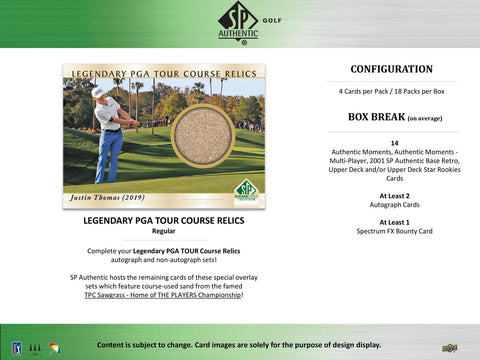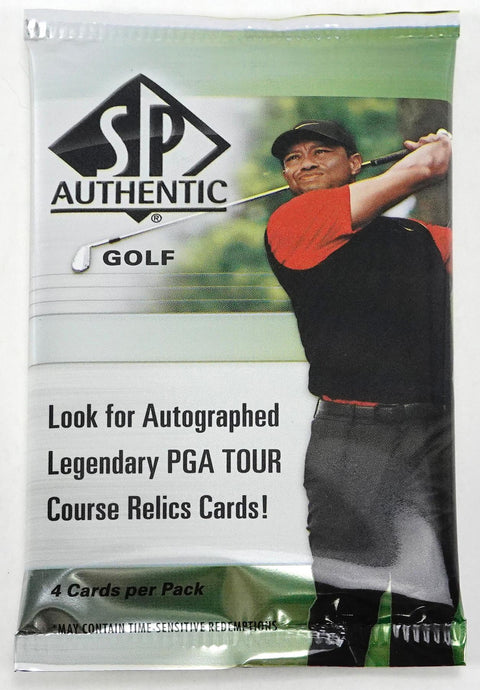 Upper Deck
2021 Upper Deck SP Authentic Golf Hobby

Each Box contains 14 Authentic Moments, Authentic Moments - Multiplayer, 2001 SP Authentic Base Retro, Upper Deck and/or Upper Deck Star Rookies Cards. At least Two Autograph Cards and At Least One Spectrum FX Bounty Card!
SP Authentic features many of today's top-ranked men's and women's golfers, such as Justin Thomas, Danielle Kang, Bryson DeChambeau, Lexi Thompson and Collin Morikawa, as well as legendary names such as Tiger Woods, Annika Sorenstam, Jack Nicklaus, Arnold Palmer and Juli Inkster!
Collect the complete multifaceted, 117-card Base Set, which breaks down as follows: Regular (1-50), Authentic Moments (51-65), Authentic Moments - Multiplayer (66-70), Authentic Rookie Signatures - Tier 1 (71-110), Authentic Rookie Signatures - Tier 2 (111-117)
Keep an eye out for Limited parallels and variations (some of which feature event-worn memorabilia), including the Hobby Exclusive Limited Red Foil parallels! See the "Product Breakdown" below for a complete list of Base Set parallel and variation cards
Complete your Legendary PGA TOUR Course Relics autograph and non-autograph sets! SP Authentic hosts the remaining cards of these special overlay sets which feature course-used sand from the famed TPC Sawgrass - Home of THE PLAYERS Championship!
SP Authentic also sports a variety of classic insert sets popular with SP Authentic Hockey collectors: Sign of the Times: Collect both the hard-signed Sign of the Times and Sign of the Times Rookies sets. Up to 50 copies of each golfer will be inscribed and hand-numbered. Also collect multi-golfer Sign of the Times cards featuring two to four autographs per card. Look for some incredible pairings! Immortal Ink, Marks of Distinction & SP Chirography: Each card in these three sets features a current standout or retired legend, a hard-signed autograph, and is numbered to 99 or less.
Collectors will be on the hunt for the rookie and veteran Exquisite Collection Auto & Swatch cards. These 140-pt. cards sport a hard-signed autograph alongside a swatch of premium event-worn memorabilia. The rookie cards are numbered to 99 while the veteran cards are numbered to just 25.

PRODUCT BREAKDOWN:

Bounty Cards
Spectrum FX Veterans1:24
Spectrum FX Legends1:72
Spectrum FX Rookies (Tier 1) 1:36
Spectrum FX Rookies (Tier 2) 1:96
Spectrum FX Rookies (Tier 3) 1:288
Bounty Achievement Cards (Not Available in Packs)
Spectrum FX Rookies (Tier 4)
Spectrum FX Veterans - Gold Parallel #'d to 50
Spectrum FX Legends - Gold Parallel#'d to 50
Spectrum FX Rookies (Tier 1) - Gold Parallel #'d to 50
Spectrum FX Rookies (Tier 2) - Gold Parallel #'d to 50
Spectrum FX Rookies (Tier 3) - Gold Parallel #'d to 50
Spectrum FX Rookies (Tier 4) - Gold Parallel #'d to 50
Autographed & Non-Autographed Memorabilia Cards
Authentic Rookie Signatures & Swatch - Limited Variation (Tier 1) #'d to 100
Authentic Rookie Signatures & Swatch - Limited Variation (Tier 2) #'d to 25
Base Cards - Limited Auto & Swatch Parallel Varied #'ing
Base Cards - Limited Red Foil Auto & Swatch Parallel (Hobby Exclusive!) Varied #'ing
Exquisite Auto & Swatch - Veterans #'d to 25
Exquisite Auto & Swatch - Rookies #'d to 99
Legendary PGA TOUR Course Relics
Legendary PGA TOUR Course Relics: Autographs Varied #'ing

Autographed Cards
2001 SP Authentic Base Retro - Auto Parallel 1:576
2001 SP Authentic Retro Rookie Auto (Tier 1) #'d to 99
2001 SP Authentic Retro Rookie Auto (Tier 2) #'d to 25
Authentic Moments - Limited Auto Parallel 1:720
Authentic Moments - Limited Red Foil Auto Parallel (Hobby Exclusive!) Varied #'ing
Authentic Moments - Limited Multi-Player Auto Parallel 1:4320
Authentic Moments - Limited Red Foil Multi-Player Auto Parallel (Hobby Exclusive!) Varied #'ing
Authentic Rookie Signatures - Tier 1 (71-110) #'d to 799
Authentic Rookie Signatures - Tier 2 (111-117) #'d to 299
Authentic Rookie Signatures - Limited Variation #'d to 100
Base Cards - Limited Auto // Varied #'ing
Base Cards - Limited Red Foil Auto // (Hobby Exclusive!) Varied #'ing
Immortal Ink #'d to 10
Marks of Distinction #'d to 25
**Sign of the Times 1:24
Sign of the Times 2 #'d to 25
Sign of the Times 3 #'d to 15
Sign of the Times 4 #'d to 20
**Sign of the Times Rookies 1:72
SP Chirography (Level 1) #'d to 99
SP Chirography (Level 2) #'d to 25
Regular Insert Cards
2001 SP Authentic Base Retro 1:7
Upper Deck 1:7
Upper Deck - Exclusives Parallel #'d to 100
Upper Deck - High Gloss Parallel #'d to 10
Upper Deck Star Rookies 1:7
Upper Deck Star Rookies - Exclusives Parallel #'d to 100
Upper Deck Star Rookies - High Gloss Parallel #'d to 10
Regular Base Set Cards (w/ Parallels)
Base Cards (1-50) 3:1
Base Cards - Limited Parallel #'d to 100
Base Cards - Limited Red Foil Parallel (Hobby Exclusive!) #'d to 25
Authentic Moments (51-65) 1:5
Authentic Moments - Multi-Player (66-70) 1:13

8 Boxes Per Case, 18 Packs Per Box, 4 Cards Per Pack