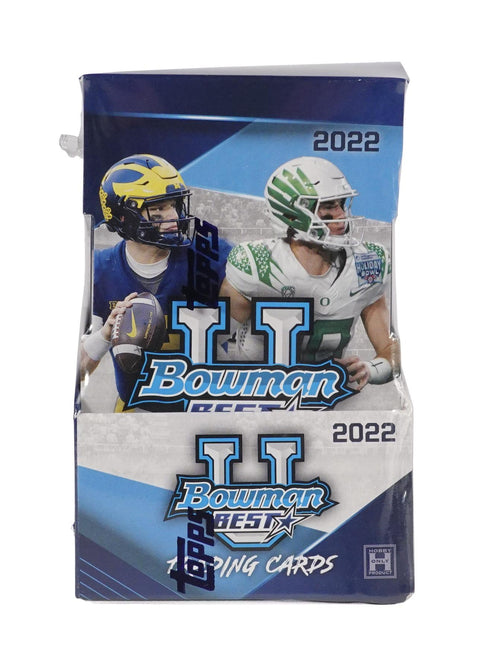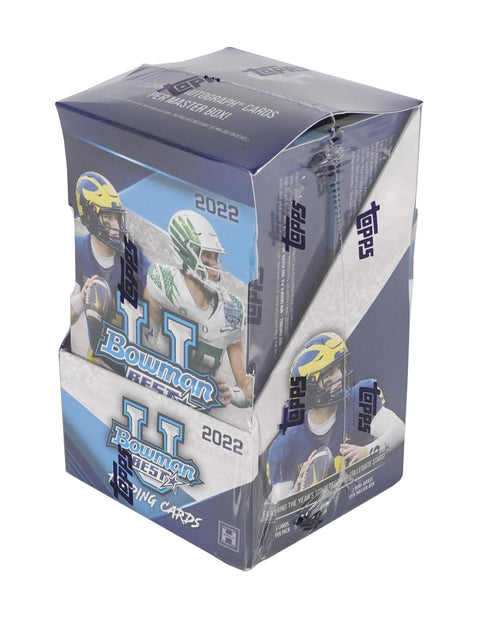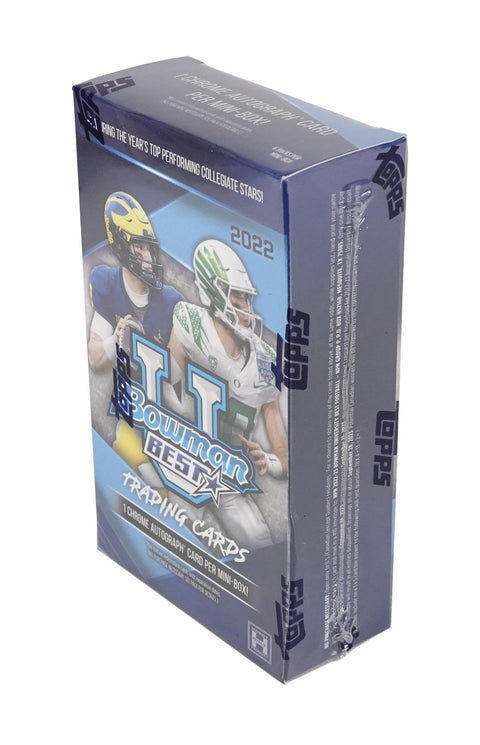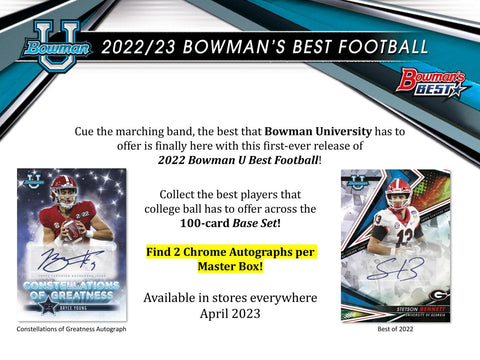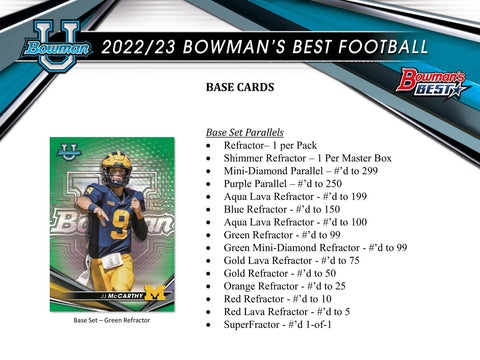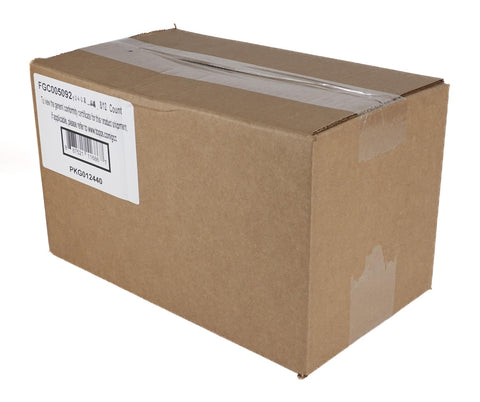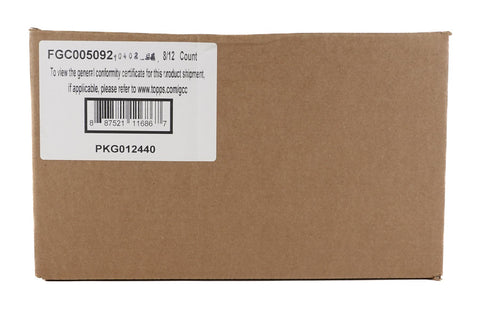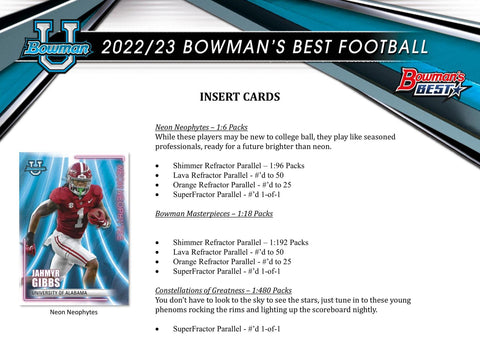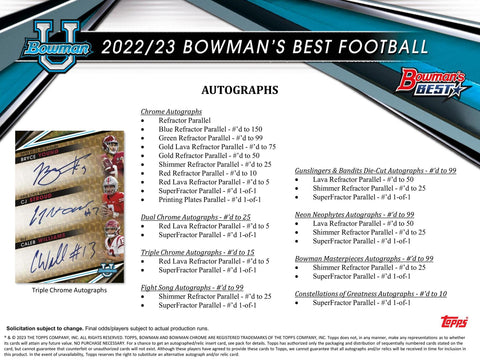 Topps
2022/23 Bowman University Best Football Hobby

Every Box contains Two Chrome Autographs!
Cue the marching band, the best that Bowman University has to offer is finally here with this first-ever release of 2022 Bowman U Best Football!
Collect the best players that college ball has to offer across the 100-card Base Set!
Find 2 Chrome Autographs per Master Box!
PRODUCT BREAKDOWN:
BASE CARDS:
Base Set Parallels:
- Refractor- 1 per Pack
- Shimmer Refractor - 1 Per Master Box
- Mini-Diamond Parallel - #'d to 299
- Purple Parallel - #'d to 250
- Aqua Lava Refractor - #'d to 199
- Blue Refractor - #'d to 150
- Aqua Lava Refractor - #'d to 100
- Green Refractor - #'d to 99
- Green Mini-Diamond Refractor - #'d to 99
- Gold Lava Refractor - #'d to 75
- Gold Refractor - #'d to 50
- Orange Refractor - #'d to 25
- Red Refractor - #'d to 10
- Red Lava Refractor - #'d to 5
- SuperFractor - #'d 1-of-1
INSERT CARDS:
Campus Captains: 1:3 Packs
These team captains create the excitement on their campus no matter where they go, whether it be in the classroom, or on the football field leading their team to a victory!
- Shimmer Refractor Parallel - 1:96 Packs
- Lava Refractor Parallel - #'d to 50
- Orange Refractor Parallel - #'d to 25
- SuperFractor Parallel - #'d 1-of-1
Fight Song: 1:6 Packs
Celebrate the fight songs that resonate across students, athletes, and alumni alike getting them ready to paint up and prepare for the new battle that Saturday has to offer!
- Shimmer Refractor Parallel - 1:96 Packs
- Lava Refractor Parallel - #'d to 50
- Orange Refractor Parallel - #'d to 25
- SuperFractor Parallel - #'d 1-of-1
Gunsligners & Bandits Die-Cut: 1:12 Packs
Quarterbacks love to play gunslinger, finding the deep part of the endzone for six, but there's always the bandit-like defensive units keeping them honest and stealing interceptions and fumbles on any given Saturday!
- Shimmer Refractor Parallel - 1:96 Packs
- Lava Refractor Parallel - #'d to 50
- Orange Refractor Parallel - #'d to 25
- SuperFractor Parallel - #'d 1-of-1
Neon Neophytes: 1:6 Packs
While these players may be new to college ball, they play like seasoned professionals, ready for a future brighter than neon.
- Shimmer Refractor Parallel - 1:96 Packs
- Lava Refractor Parallel - #'d to 50
- Orange Refractor Parallel - #'d to 25
- SuperFractor Parallel - #'d 1-of-1
Bowman Masterpieces: 1:18 Packs
- Shimmer Refractor Parallel - 1:192 Packs
- Lava Refractor Parallel - #'d to 50
- Orange Refractor Parallel - #'d to 25
- SuperFractor Parallel - #'d 1-of-1
Constellations of Greatness: 1:480 Packs
You don't have to look to the sky to see the stars, just tune in to these young phenoms rocking the rims and lighting up the scoreboard nightly.
- SuperFractor Parallel - #'d 1-of-1
AUTOGRAPHS:
Chrome Autographs:
- Refractor Parallel
- Blue Refractor Parallel - #'d to 150
- Green Refractor Parallel - #'d to 99
- Gold Lava Refractor Parallel - #'d to 75
- Gold Refractor Parallel - #'d to 50
- Shimmer Refractor Parallel - #'d to 25
- Red Refractor Parallel - #'d to 10
- Red Lava Refractor Parallel - #'d to 5
- SuperFractor Parallel - #'d 1-of-1
- Printing Plates Parallel - #'d 1-of-1
Dual Chrome Autographs: #'d to 25
- Red Lava Refractor Parallel - #'d to 5
- SuperFractor Parallel - #'d 1-of-1
Triple Chrome Autographs: #'d to 15
- Red Lava Refractor Parallel - #'d to 5
- SuperFractor Parallel - #'d 1-of-1
Fight Song Autographs: #'d to 99
- Red Lava Refractor Parallel - #'d to 5
- SuperFractor Parallel - #'d 1-of-1
Gunslingers & Bandits Die-Cut Autographs: #'d to 99
- Lava Refractor Parallel - #'d to 50
- Shimmer Refractor Parallel - #'d to 25
- SuperFractor Parallel - #'d 1-of-1
Neon Neophytes Autographs: #'d to 99
- Lava Refractor Parallel - #'d to 50
- Shimmer Refractor Parallel - #'d to 25
- SuperFractor Parallel - #'d 1-of-1
Bowman Materpieces Autographs: #'d to 99
- Shimmer Refractor Parallel - #'d to 25
- SuperFractor Parallel - #'d 1-of-1
Constellations of Greatness Autographs: #'d to 10
- SuperFractor Parallel - #'d 1-of-1
8 Boxes per Case, 2 Mini Boxes per Box, 6 Packs per Mini Box, 5 Cards per Pack