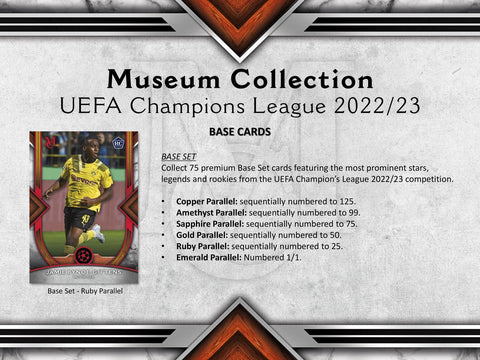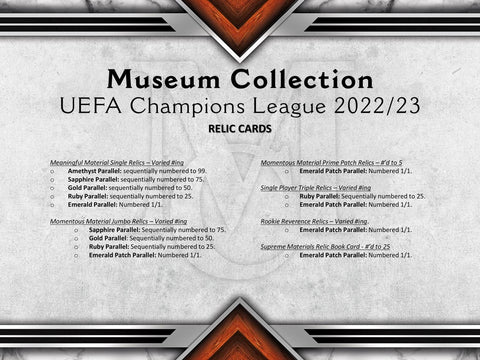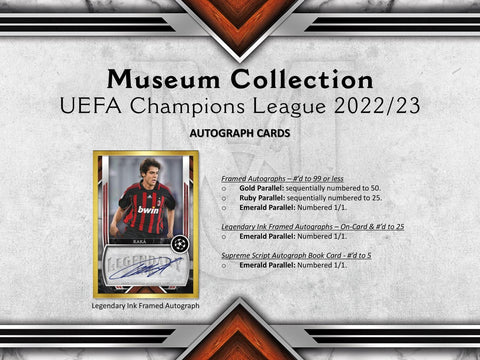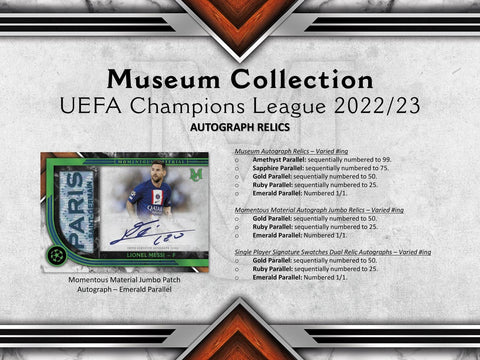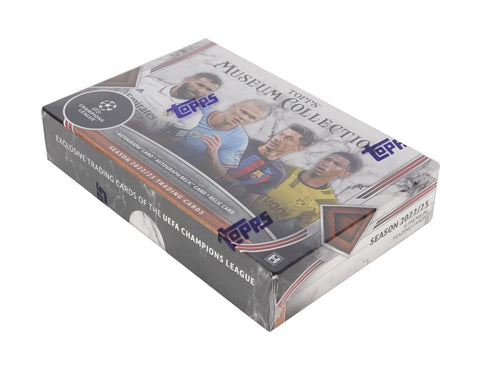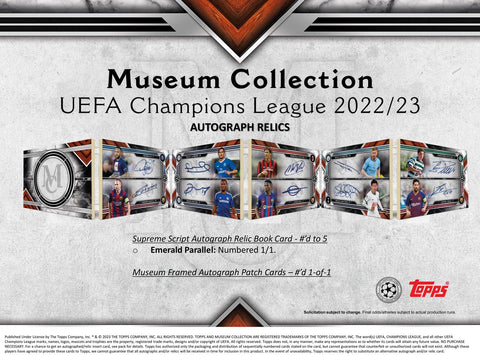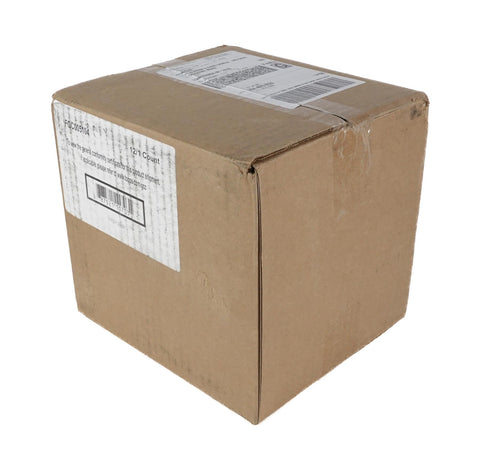 Topps
2022/23 Topps Museum Collection UEFA Champions League Soccer Hobby

Every Box contains One Autograph, One Autographed Relic Card, One Relic Card, One Parallel & Four Base Cards!
Topps Museum Collection brings a wealth of elegance and luxury to UEFA Champions League trading cards yet again with this 2022/23 collection.
1 Autograph, 1 Autographed Relic & 1 Relic Cards per Box!
Collect a variety of premium Autograph and Relic cards such as the all-new on-card Legendary Ink Framed Autographs or the ultra-rare Supreme Script Autograph Relic Book Cards, featuring 10 elite autographs and memorabilia pieces!
PRODUCT BREAKDOWN:
BASE CARDS: Collect 75 premium Base Set cards featuring the most prominent stars, legends and rookies from the UEFA Champion's League 2022/23 competition.
- Copper Parallel: sequentially numbered to 125
- Amethyst Parallel: sequentially numbered to 99
- Sapphire Parallel: sequentially numbered to 75
- Gold Parallel: sequentially numbered to 50
- Ruby Parallel: sequentially numbered to 25
- Emerald Parallel: numbered 1/1
RELIC CARDS:
Meaningful Material Single Relics: Varied #ing
- Amethyst Parallel: sequentially numbered to 99
- Sapphire Parallel: sequentially numbered 75
- Gold Parallel: sequentially numbered to 50
- Ruby Parallel: sequentially numbered to 25
- Emerald Parallel: numbered 1/1
Momentous Material Jumbo Relics: Varied #ing
- Sapphire Parallel: sequentially numbered to 75
- Gold Parallel: sequentially numbered to 50
- Ruby Parallel: sequentially numbered to 25
- Emerald Parallel: numbered 1/1
Momentous Material Prime Patch Relics: #'d to 5
- Emerald Patch Parallel: numbered 1/1
Single Player Triple Relics: Varied #ing
- Ruby Parallel: sequentially numbered to 25
- Emerald Patch Parallel: numbered 1/1
Rookie Reverance Relics: Varied #ing
- Emerald Patch Parallel: numbered 1/1
Supreme Materials Relic Book Card: #'d to 25
- Emerald Patch Parallel: numbered 1/1
AUTOGRAPH CARDS:
Archival Autographs: Varied #ing
- Amethyst Parallel: sequentially numbered to 99
- Sapphire Parallel: sequentially numbered to 75
- Gold Parallel: sequentially numbered to 50
- Ruby Parallel: sequentially numbered to 25
- Emerald Parallel: numbered 1/1
Archival Dual Autographs: #'d to 25
- Emerald Parallel: numbered 1/1
Rookie Reverance Autographs: Varied #'ing
- Amethyst Parallel: sequentially numbered to 99
- Sapphire Parallel: sequentially numbered to 75
- Gold Parallel: sequentially numbered to 50
- Ruby Parallel: sequentially numbered to 25
- Emerald Parallel: numbered 1/1
Framed Autographs: #'d to 99 or less
- Gold Parallel: sequentially numbered to 50
- Ruby Parallel: sequentially numbered to 25
- Emerald Parallel: numbered 1/1
Legendary Ink Framed Autographs: On-Card & #'d to 25
- Emerald Parallel: numbered 1/1
Supreme Script Autograph Book Card: #'d to 5
- Emerald Parallel: numbered 1/1
AUTOGRAPHED RELICS:
Museum Autograph Relics: Varied #ing
- Amethyst Parallel: sequentially numbered 99
- Sapphire Parallel: sequentially numbered 75
- Gold Parallel: sequentially numbered 50
- Ruby Parallel: sequentially numbered to 25
- Emerald Parallel: numbered 1/1
Momentous Material Autograph Jumbo Relics: Varied #ing
- Gold Parallel: sequentially numbered to 50
- Ruby Parallel: sequentially numbered to 25
- Emerald Parallel: numbered 1/1
Single Player Signature Swatches Dual Relic Autographs: Varied #ing
- Gold Parallel: sequentially numbered to 50
- Ruby Parallel: sequentially numbered to 25
- Emerald Parallel: numbered 1/1
Supreme Script Autograph Relic Book Card: #'d to 5
- Emerald Parallel: numbered 1/1
Museum Framed Autograph Patch Cards: #'d 1-of-1
12 Boxes per Case, 8 Cards per Box