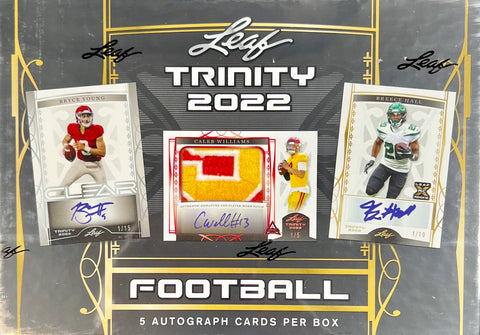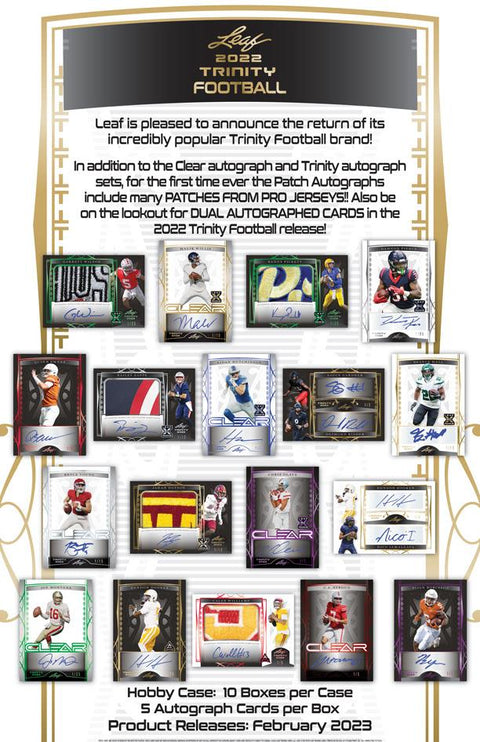 Leaf
2022 Leaf Trinity Football Hobby

Every Box contains Five Autograph Cards!
Leaf is pleased to announce the return of its brand incredibly popular Trinity Football brand!
In addition to the Clear autograph and Trinity autograph sets, for the first time ever the Patch Autographs include many patches from Pro Jerseys! Also be on the lookout for Dual Autographed cards in 2022 Trinity Football release!
Look for:
- Garrett Wilson
- Malik Willis
- Kenny Pickett
- Dameon Pierce
- Quinn Ewers
- Bailey Zappe
- Aidan Hutchinson
- Sauce Gardner
- Desmond Ridder
- Breece Hall
- Bryce Young
- Jahan Dotson
- Chris Olave
- Joe Montana
- Hendon Hooker
- Caleb Williams
- C.J. Stoud
- Bijan Robinson
10 Boxes per Case, 5 Cards per Box