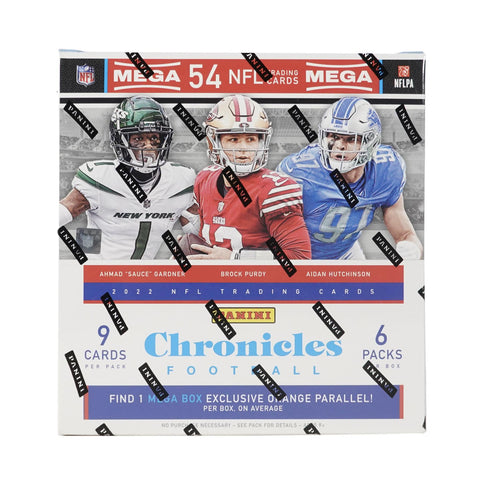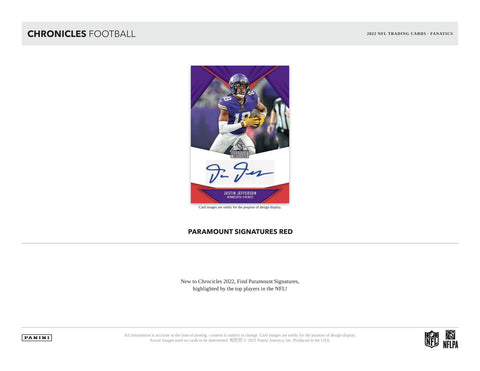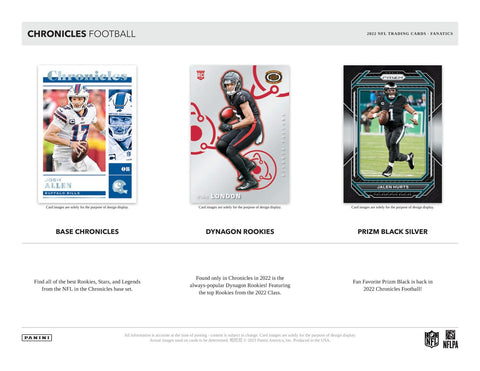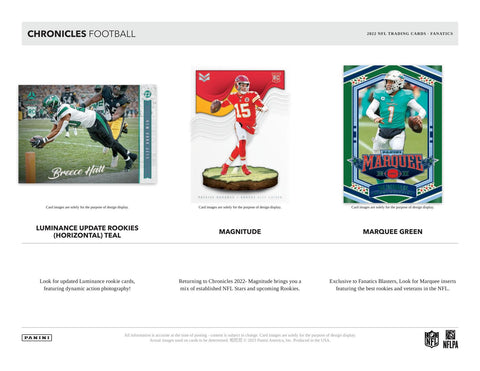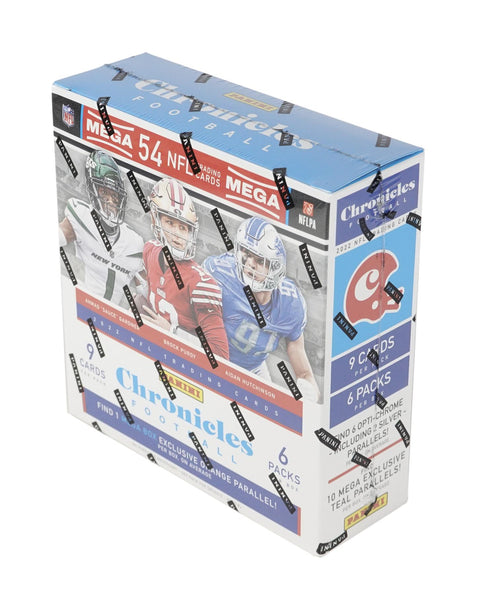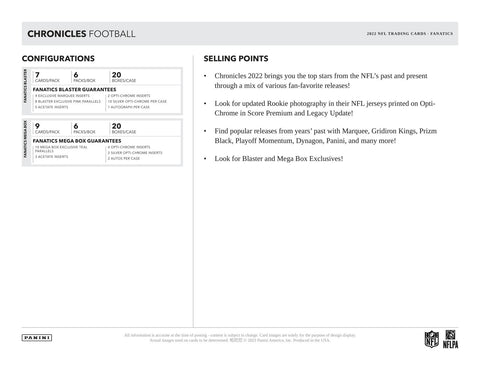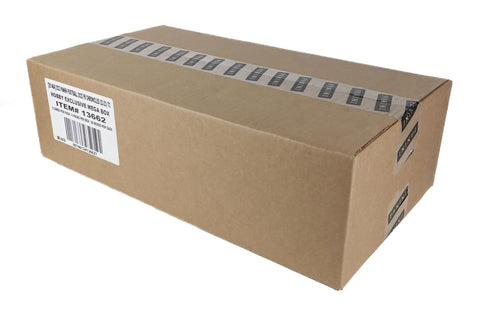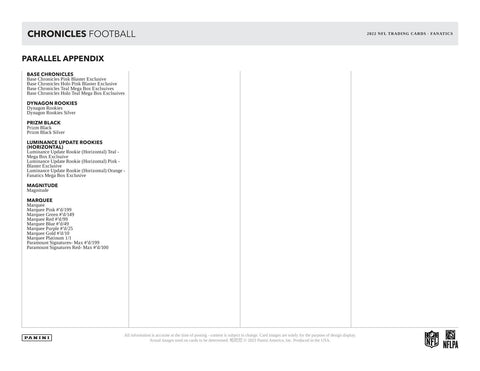 Panini
2022 Panini Chronicles Football Hobby Mega (Orange Parallels!)

Each Box contains Ten Teal Parallels, Three Acetate Inserts, Four Opti-Chrome Inserts, and Two Silver opti-Chrome Inserts!
Each CASE contains Two Autographs!
Look for EXCLUSIVE Marquee inserts featuring the best rookies and veterans in the NFL!
Chronicles 2022 brings you the top stars from the NFL's past and present through a mix of various fan-favorite releases!
Look for updated Rookie photography in their NFL jerseys printed on OptiChrome in Score Premium and Legacy Update!
Find popular releases from years' past with Marquee, Gridiron Kings, Prizm Black, Playoff Momentum, Dynagon, Panini, and many more!

PRODUCT BREAKDOWN:
BASE CHRONICLES: Find all of the best Rookies, Stars, and Legends from the NFL in the Chronicles base set.
Base Chronicles Pink Blaster Exclusive
Base Chronicles Holo Pink Blaster Exclusive
Base Chronicles Teal Mega Box Exclsuives
Base Chronicles Holo Teal Mega Box Exclsuives
DYNAGON ROOKIES: Found only in Chronicles in 2022 is the always-popular Dynagon Rookies! Featuring the top Rookies from the 2022 Class.
Dynagon Rookies
Dynagon Rookies Silver
PRIZM BLACK: Fan Favorite Prizm Black is back in 2022 Chronicles Football!
Prizm Black
Prizm Black Silver
LUMINANCE UPDATE ROOKIES: Look for updated Luminance rookie cards, featuring dynamic action photography!
Luminance Update Rookie (Horizontal) Orange - Hobby Mega Box Exclusive
MAGNITUDE: Returning to Chronicles 2022- Magnitude brings you a mix of established NFL Stars and upcoming Rookies.
ARAMOUNT SIGNATURES: New to Chrocicles 2022, Find Paramount Signatures, highlighted by the top players in the NFL!

20 Boxes Per Case, 6 Packs Per Box, 9 Cards Per Pack