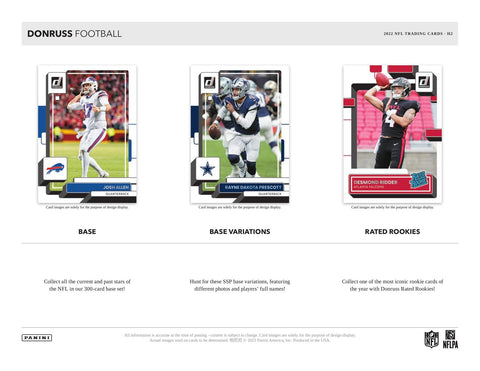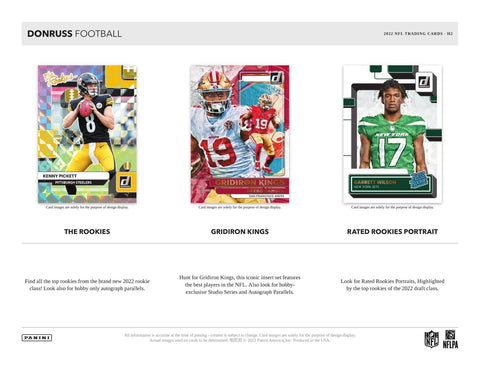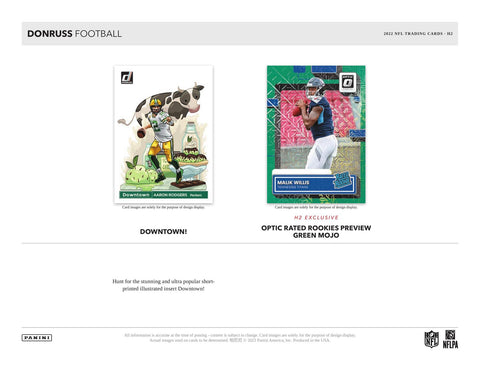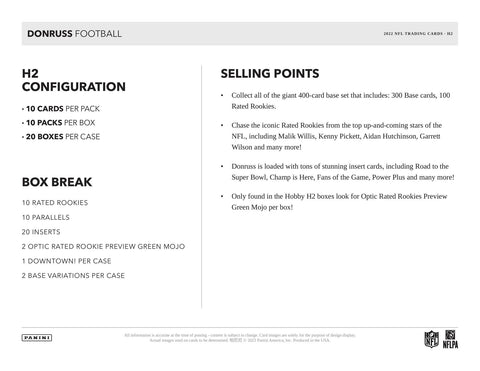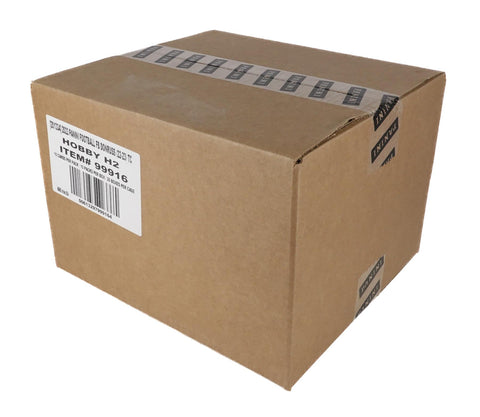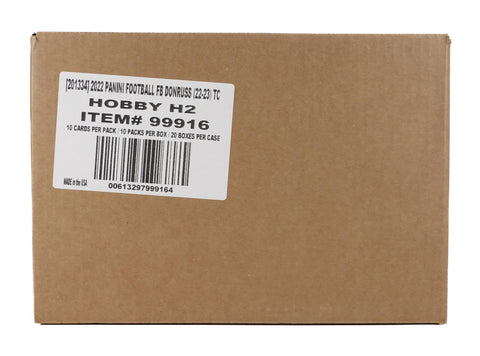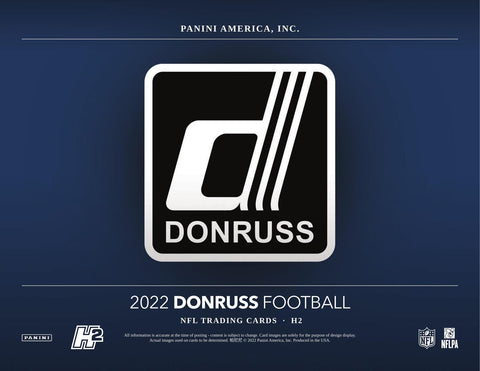 Panini
2022 Panini Donruss Football H2

Each Box contains Two Optic Rated Rookie Preview Green Mojo, Ten Rated Rookies, Ten Parallels, and Twenty Inserts!
Each CASE contains One Downtown! and Two BAse Variations!
Collect all of the giant 400-card base set that includes: 300 Base cards, 100 Rated Rookies.
Chase the iconic Rated Rookies from the top up-and-coming stars of the NFL, including Malik Willis, Kenny Pickett, Aidan Hutchinson, Garrett Wilson and many more!
Only found in the Hobby H2 boxes look for Optic Rated Rookies Preview Green Mojo per box!

PRODUCT BREAKDOWN:
BASE: Collect all the current and past stars of the NFL in our 300-card base set! Hunt for these SSP base variations, featuring different photos and players' full names!
Base Season Stat Line Max #'d/500
Base Press Proof Silver #'d/100
Base Press Proof Silver Die-Cut #'d/75
Base Press Proof Gold #'d/50
Base Canvas
Base Press Proof Red
RATED ROOKIES: Collect one of the most iconic rookie cards of the year with Donruss Rated Rookies!
Rated Rookies Stat Line Max #'d/500
Rated Rookies Press Proof Silver #'d/100
Rated Rookies Press Proof Silver Die-Cut #'d/75
Rated Rookies Press Proof Gold #'d/50
Rated Rookies Press Proof Red
Rated Rookies Canvas
THE ROOKIES: Find all the top rookies from the brand new 2022 rookie class! Look also for hobby only autograph parallels.
The Rookies
The Rookies Autographs Max #'d/299
GRIDIRON KINGS: Hunt for Gridiron Kings, this iconic insert set features the best players in the NFL. Also look for hobbyexclusive Studio Series and Autograph Parallels.
Gridiron Kings
Gridiron Kings Studio Series #'d/100
Gridiron Kings Autograp
RATED ROOKIES PORTRAIT: Look for Rated Rookies Portraits, Highlighted by the top rookies of the 2022 draft class.
DOWNTOWN!: Hunt for the stunning and ultra popular shortprinted illustrated insert Downtown!

20 Boxes Per Case, 10 Packs Per Box, 10 Cards Per Pack