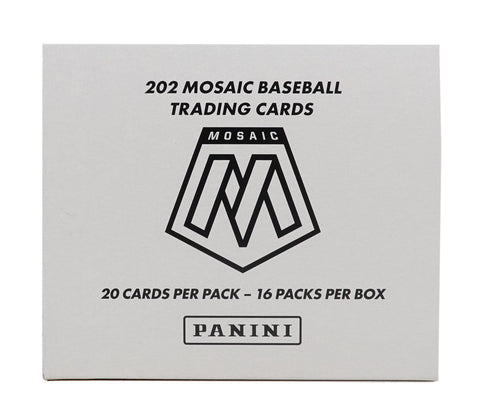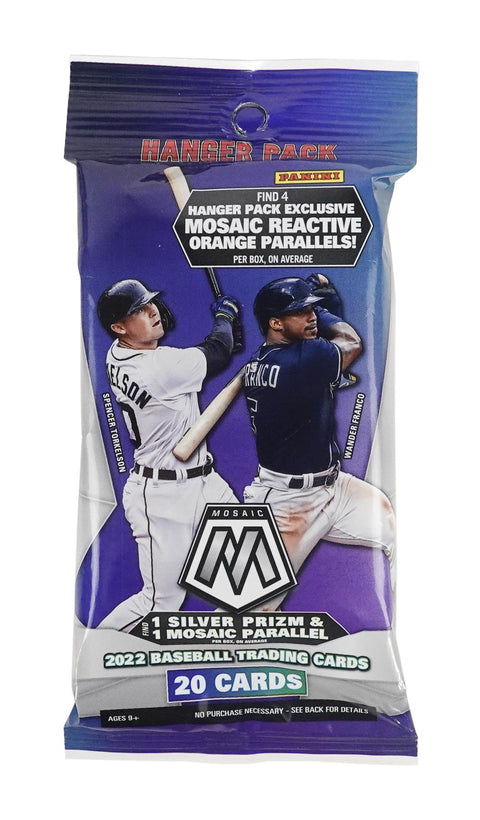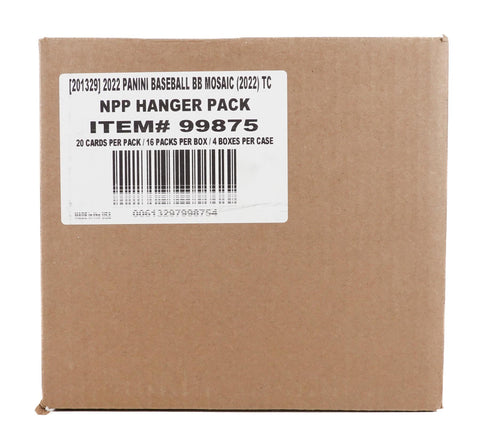 Panini
2022 Panini Mosaic Baseball Hanger 16-Pack
64 Hanger packs per case!!!


Each Hanger Pack contains Four Exclusive Mosaic Reactive Orange Parallels, One Silver Prizm, 1 Mosaic Parallel!
Mosaic promises to deliver all the fan favorites and up-and-coming stars on one of our most popular opti-chrome designs!
Mosaic Baseball has a total of a 100-card autograph checklist featuring multiple budding superstars like Wander Franco and Oneil Cruz in Rookie Autographs Mosaic and current faces of the franchise like Fernando Tatis Jr. and Juan Soto in Autographs Mosaic!
Find fan favorites like Ronald Acuna, Luis Robert, Shohei Ohtani and more featured arcoss all our inserts like Swagger, Longball Masters and V Tool!
Hunt for newly designed, ultra rare inserts like Global, Ballistic and more!

PRODUCT BREAKDOWN:
Hanger Box Exclusive
4 Mosaic Reactive Orange parallels
Base
Parallels: Reactive Orange (3:1), Silver Prizm (1:2), Mosaic (1:2), Mosaic Green (1:2), Mosaic Genesis (1:121), Mosaic Blue Fluorescent (#d/15), Holo Black (#d 1/1)
Base 200-card set
Rookies 64-card set
Inserts
Parallels: Mosaic Reactive Orange (1:3), Silver Prizm (1:11), Mosaic (1:11), Mosaic Green (1:11), Mosaic Genesis (1:873), Mosaic Blue Fluorescent (#d/15), Holo Black (#d 1/1)
2021 Award Winners (1:6) 6-card set
1980s Stars (1:4) 10-card set
1990s Stars (1:4) 10-card set
2000s Stars (1:4) 10-card set
Parallels: Mosaic (1:2), Mosaic Green (1:2) Reactive Orange (#d/99)
Rookie Debut (1:3) 20-card set
Aces (1:4) 15-card set
Bang! (1:4) 15-card set
Will to Win (1:5) 12-card set
Big Fly (1:5) 12-card set
Holofame (1:5) 12-card set
Grand Salami (1:6) 8-card set
Hot Sauce (1:8) 6-card set
Autograph Cards
Parallels: Holo (1:234), Gold (1:427), Orange (1:1,072)
Scripts (1:127) - 100-card set

20 Cards Per Pack