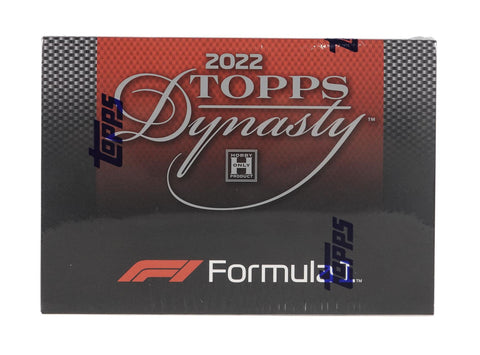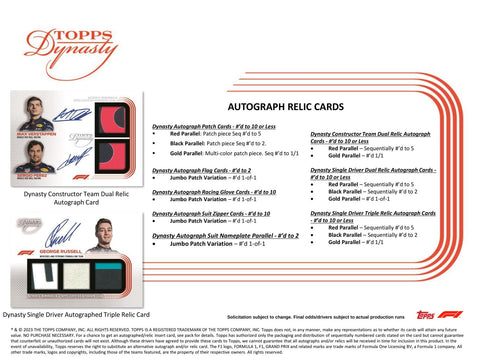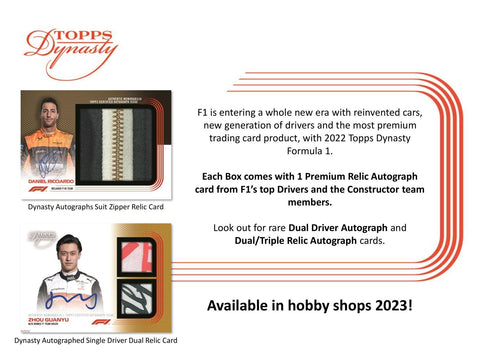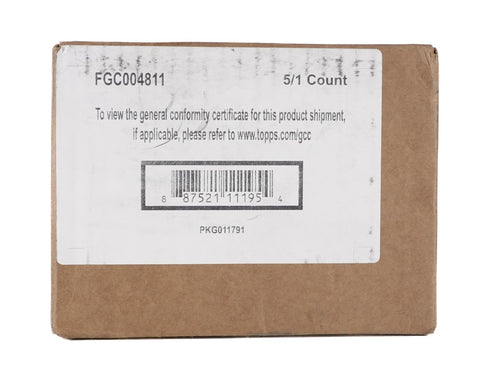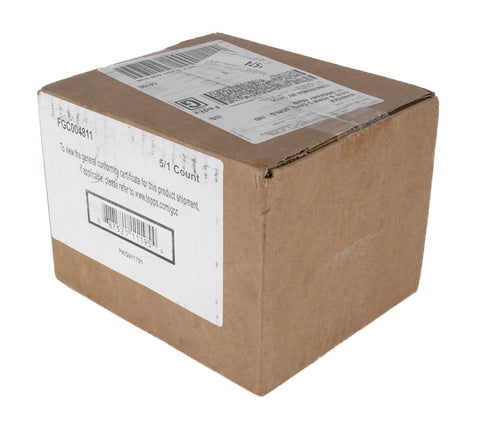 Topps
2022 Topps Dynasty F1 Formula 1 Racing Hobby

Each Box contains One Premium Encased Autograph Memorabilia Card!
F1 is entering a whole new era with reinvented cars, new generation of drivers and the most premium trading card product, with 2022 Topps Dynasty Formula 1.
Each Box comes with 1 Premium Relic Autograph card from F1's top Drivers and the Constructor team members!
Look out for rare Dual Driver Autograph and Dual/Triple Relic Autograph cards.
PRODUCT BREAKDOWN:
AUTOGRAPH RELIC CARDS:
Dynasty Autograph Patch Cards: #'d to 10 or less
- Red Parallel: Patch Piece Seq #'d to 5
- Black Parallel: Patch Piece Seq #'d to 2
- Gold Parallel: Multi-Color patch piece Seq #'d 1-of-1
Dynasty Autograph Flag Cards: #'d to 2
- Jumbo Patch Variation - #'d 1-of-1
Dynasty Autograph Racing Glove Cards: #'d to 10
- Jumbo Patch Variation - #'d 1-of-1
Dynasty Autograph Suit Zipper Cards: #'d to 10
- Jumbo Patch Variation - #'d 1-of-1
Dynasty Autograph Suit Nameplate Parallel: #'d to 2
- Jumbo Patch Variation - #'d 1-of-1
Dynasty Constructor Team Dual Relic Autograph Cards: #'d to 10 or less
- Red Parallel - Sequentially #'d to 5
- Gold Parallel - #'d 1-of-1
Dynasty Single Driver Dual Relic Autograph Cards: #'d to 10 or less
- Red Parallel - Sequentially #'d to 5
- Black Parallel - Sequentially #'d to 2
- Gold Parallel - #'d 1-of-1
Dynasty Single Driver Triple Relic Autograph Cards: #'d to 10 or less
- Red Parallel - Sequentially #'d to 5
- Black Parallel - Sequentially #'d to 2
- Gold Parallel #'d 1-of-1
5 Boxes per Case, 1 Card per Box