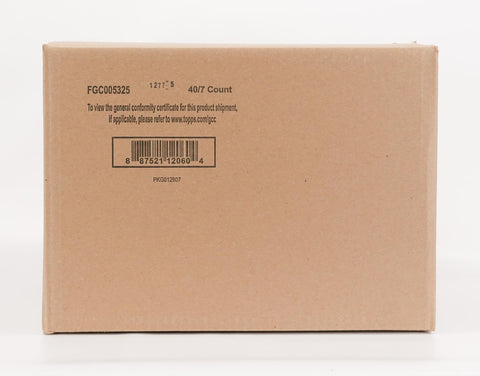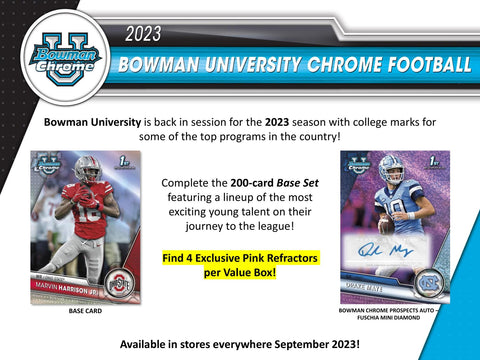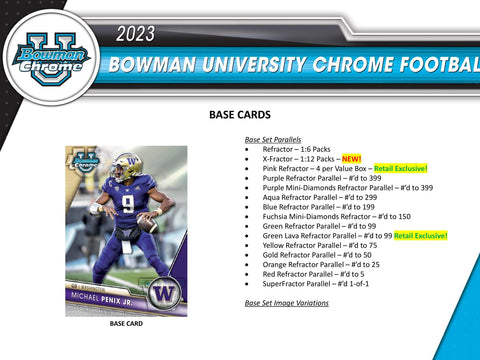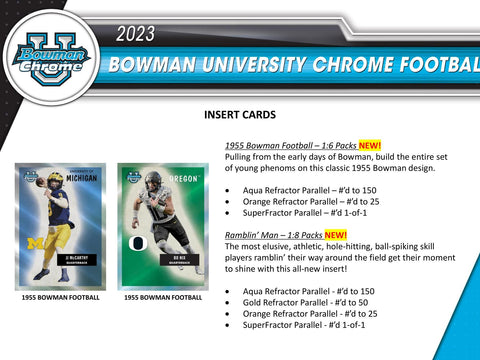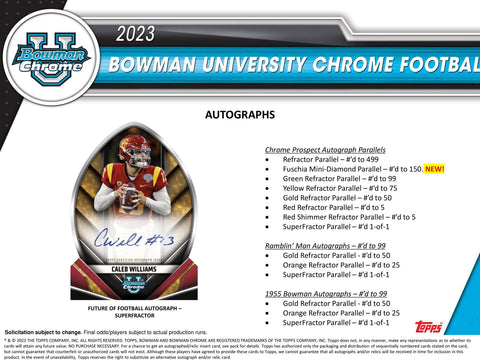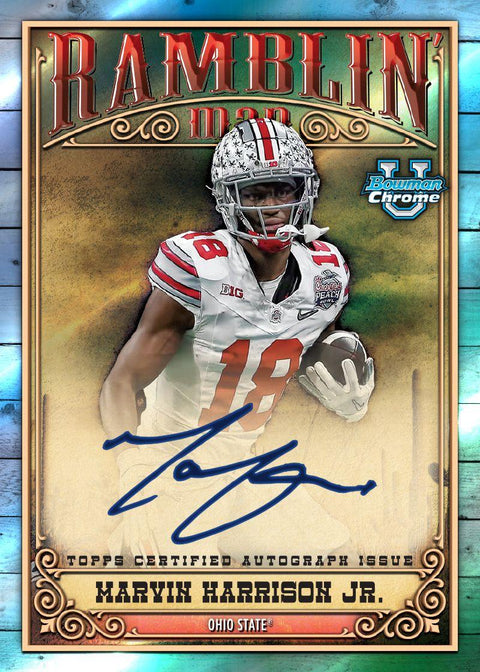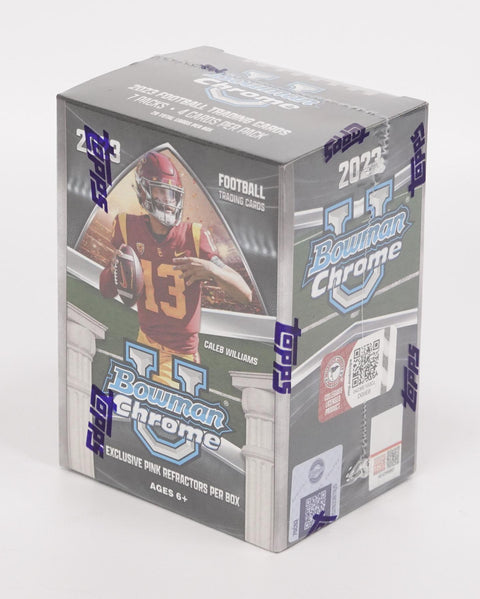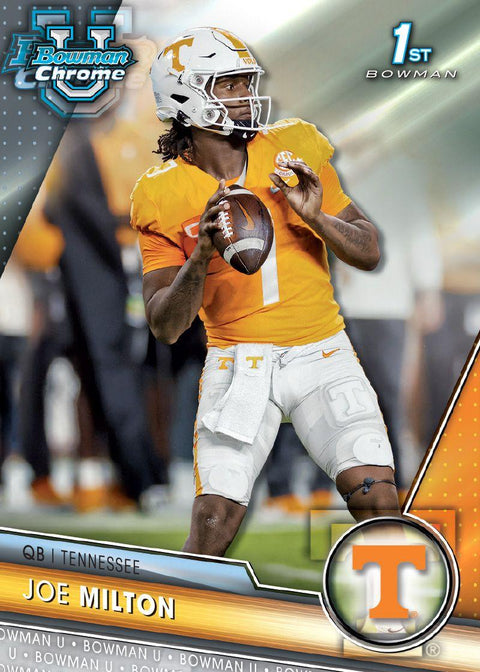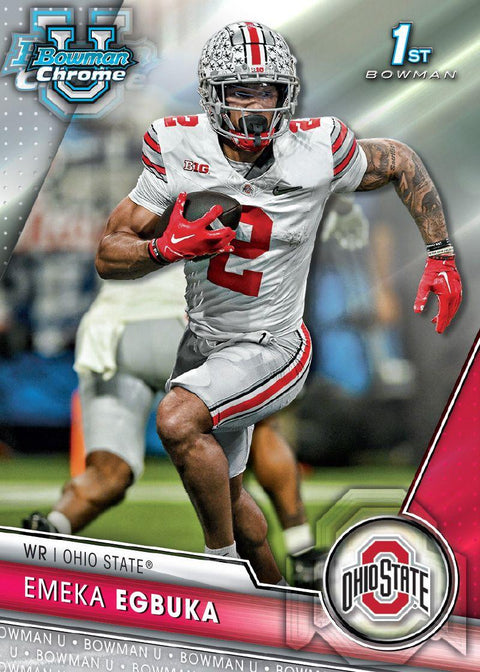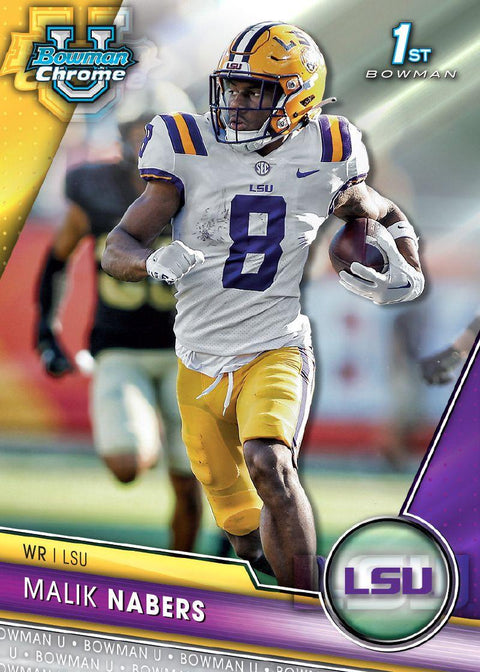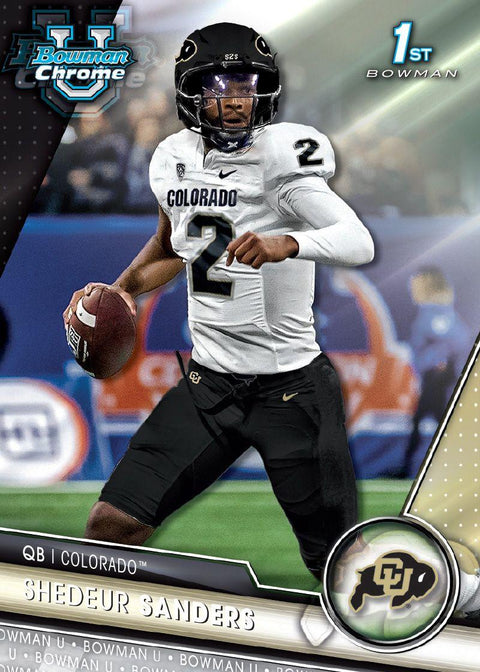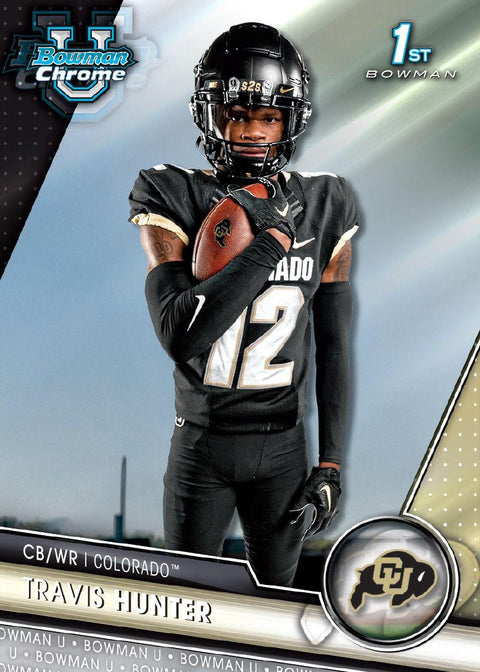 Topps
2023 Bowman University Chrome Football 7-Pack Blaster
Every Box contains Four Exclusive Pink Refractors & One Base Color Parallel or Image Variation!
Collect the 1st Bowman Cards of Drake Maye, Marvin Harrison Jr., Shedeur Sanders, Riley Leonard, Tyler Van Dyke, Emeka Egbuka, Cade Klubnik, Rome Odunze, Malik Nabers, Quinshon Judkins, Raheim Sanders, Bucky Irving, Trey Benson, Evan Stewart, Keon Coleman, Ja'Tavion Sanders, and many more!
Look for potential Top 2024 NFL Draft Picks like Caleb Williams, Brock Bowers, Bo Nix, Michael Penix Jr., Blake Corum, Marvin Harrison Jr., Jared Verse, Kool-Aid McKinstry, and Malik Nabers!
Bowman University is back in session for the 2023 season with college marks for some of the top programs in the country!
Complete the 200-card Base Set featuring a lineup of the most exciting young talent on their journey to the league!

PRODUCT BREAKDOWN:
BASE CARDS:
Base Set Parallels:
- Refractor - 1:6 Packs
- X-Fractor - 1:12 Packs - NEW!
- Pink Refractor - 4 per Blaster Box - Retail Exclusive!
- Purple Refractor Parallel - #'d to 399
- Purple Mini-Diamonds Refractor Parallel - #'d to 399
- Aqua Refractor Parallel - #'d to 299
- Blue Refractor Parallel - #'d to 199
- Fuchsia Mini-Diamonds Refractor - #'d to 150
- Green Refractor Parallel - #'d to 99
- Green Lava Refractor Parallel - #'d to 99 Retail Exclusive!
- Yellow Refractor Parallel - #'d to 75
- Gold Refractor Parallel - #'d to 50
- Orange Refractor Parallel - #'d to 25
- Red Refractor Parallel - #'d to 5
- SuperFractor Parallel - #'d 1-of-1
Base Set Image Variations
INSERT CARDS:
1955 Bowman Football: 1:6 Packs NEW!
Pulling from the early days of Bowman, build the entire set of young phenoms on this classic 1955 Bowman design.
- Aqua Refractor Parallel - #'d to 150
- Orange Refractor Parallel - #'d to 25
- SuperFractor Parallel - #'d 1-of-1
Ramblin' Man: 1:8 Packs NEW!
The most elusive, athletic, hole-hitting, ball-spiking skill players ramblin' their way aroud the field get their moment to shine with this all-new insert!
- Aqua Refractor Parallel - #'d to 150
- Gold Refractor Parallel - #'d to 50
- Orange Refractor Parallel - #'d to 25
- SuperFractor Parallel - #'d 1-of-1
AUTOGRAPHS:
Chrome Prospect Autograph Parallels:
- Refractor Parallel - #'d to 499
- Fuchsia Mini-Diamond Parallel - #'d to 150 NEW!
- Green Refractor Parallel - #'d to 99
- Yellow Refractor Parallel - #'d to 75
- Gold Refractor Parallel - #'d to 50
- Red Refractor Parallel - #'d to 5
- Red Shimmer Refractor Parallel - #'d to 5
- SuperFractor Paralell - #'d 1-of-1
Ramblin' Man Autographs: #'d to 99
- Gold Refractor Parallel - #'d to 50
- Orange Refractor Parallel - #'d to 25
- SuperFractor Parallel - #'d 1-of-1
1955 Bowman Autographs: #'d to 99
- Gold Refractor Parallel - #'d to 50
- Orange Refractor Parallel - #'d to 25
- SuperFractor Parallel - #'d 1-of-1
40 Boxes per Case, 7 Packs per Box, 4 Cards per Pack