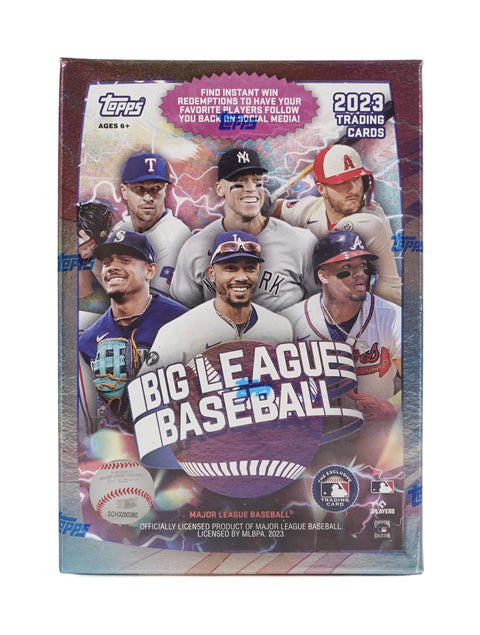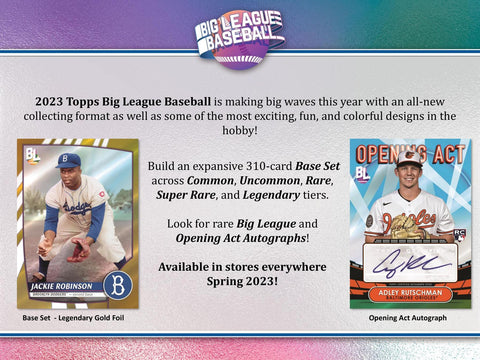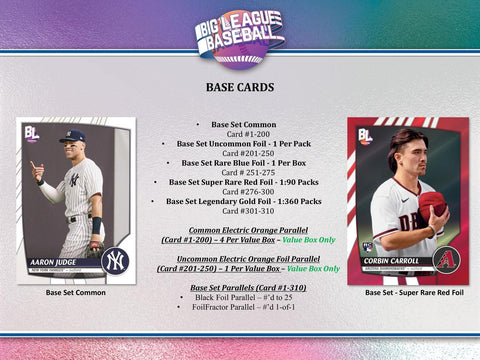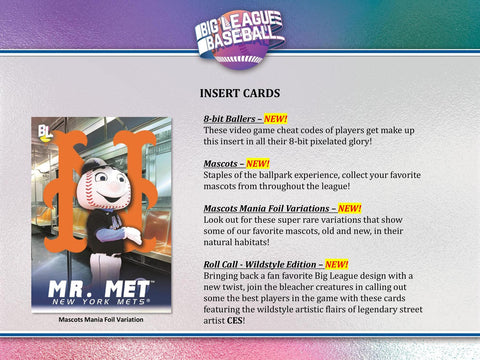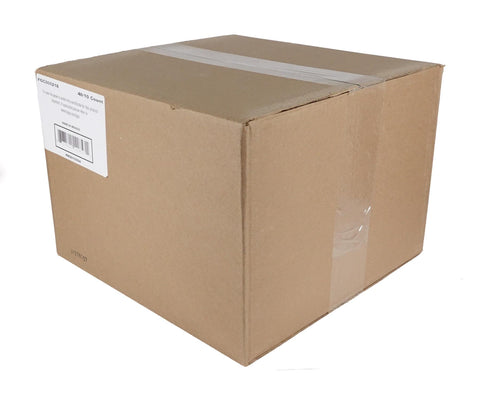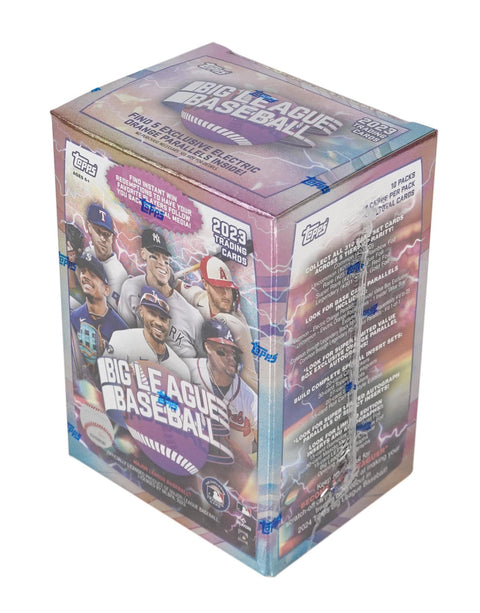 Topps
2023 Topps Big League Baseball 10-Pack Blaster

Each Blaster Box contains Four EXCLUSIVE Common Electric Orange Paralels and One Uncommon Electric Orange Parallel!
2023 Topps Big League Baseball is making big waves this year with an all-new collecting format as well as some of the most exciting, fun, and colorful designs in the hobby!
Build an expansive 310-card Base Set across Common, Uncommon, Rare, Super Rare, and Legendary tiers.
Look for rare Big League and Opening Act Autographs!

PRODUCT BREAKDOWN:
BASE CARDS:
- Base Set Common Card #1-200
- Base Set Uncommon Foil - 1 Per Pack - Card #201-250
- Base Set Rare Blue Foil - 1 Per Box - Card # 251-275
- Base Set Super Rare Red Foil - 1:90 Packs - Card #276-300
- Base Set Legendary Gold Foil - 1:360 Packs - Card #301-310
Common Electric Orange Parallel: (Card #1-200) - 4 Per Value Box - Value Box Only
Uncommon Electric Orange Foil Parallel: (Card #201-250) - 1 Per Value Box - Value Box Only
Base Set Parallels: (Card #1-310)
- Black Foil Parallel - #'d to 25
- FoilFractor Parallel - #'d 1-of-1

INSERT CARDS:
City Slickers: NEW!
Collect the entire set featuring some of the best in-game imagery of players in their lively City Connect threads!
Topps Big Leaguers: NEW!
Inspired by the cult classic 1992 Topps Kids set, this insert features a colorful and eclectic mix of designs by artist Drake Cereal as they dug deep into what brings fun to the game we all love!
Game Day Drip Gold Foil - Ltd.: NEW!
Players love to show out on their way to the game, and even sometimes show out in the middle of the game! This insert celebrates some of the drippiest fits our favorite players have rocked.
LET'S GO! - Super Ltd.: NEW!
Get up, get amped, and get going to chase this super limited set of bombastic chrome cards sprinkled throughout a variety of Topps Baseball products in 2023 starting off with Big League!
- Red Refractor Parallel - #'d to 5
- SuperFractor Parallel - #'d 1-of-1
INSERT CARDS:
8-bit Ballers: NEW!
These video game cheat codes of players get make up this insert in all their 8-bit pixelated glory!
Mascots: Staples of the ballpark experience, collect your favorite mascots from throughout the league!
Mascots Mania Foil Variations: NEW!
Look out for these super rare variations that show some of our favorite mascots, old and new, in their natural habitats!
Roll Call - Wildstyle Edition: NEW!
Bringing back a fan favorite Big League design with a new twist, join the bleacher creatures in calling out some the best players in the game with these cards featuring the wildstyle artistic flairs of legendary street artist CES!
AUTOGRAPHS:
Base Set - Common - Electric Orange Autograph Parallel: - Value Box Only
Base Set - Uncommon - Electric Orange Foil Autograph Parallel: Value Box Only
Big League Blue Foil Autographs:
- Gold Foil Parallel - #'d to 50
- Orange Foil Parallel - #'d to 25
- Red Foil Parallel - #'d to 5
- FoilFractor Parallel - ##'d 1-of-1
Opening Act Blue Foil Autographs:
- Gold Foil Parallel - #'d to 50
- Orange Foil Parallel - #'d to 25
- Red Foil Parallel - #'d to 5
- FoilFractor Parallel - ##'d 1-of-1
City Slickers Autograph Parallel: #'d to 25
8-Bit Ballers Autograph Parallel: #'d to 25
Roll Call Wildstyle Edition Autograph Parallel: #'d to 25

40 Boxes Per Case, 10 Packs Per Box, 8 Cards Per Pack