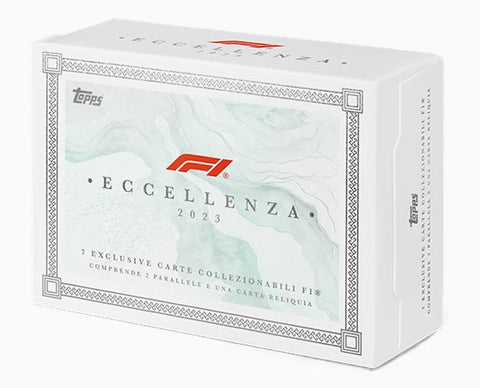 Topps
2023 Topps Formula 1 F1 Eccellenza Hobby Box

Each Box contains One Relic Card and Two Numbered Parallels!
Introducing Formula 1 - Eccellenza!
Topps are celebrating the rich heritage of Italian motor racing with an incredible new collection of premium trading cards. Each box contains a guaranteed relic card and 2 numbered parallel cards; with bonus legend autographs (Prost, Coulthard and Mansell) to be found in lucky boxes!
In this Italian online exclusive, subsets include - 'Eccellenza' and 'La Passione' covering the current drivers, former world champions in 'Supremo', current top performers in 'Trionfo', 'La Squadra' dual cards, top youngsters in 'Prodigio' and icons from the past in 'Veterano', including Ferrari legend, Michael Schumacher.
Collect the 74 Card Set!