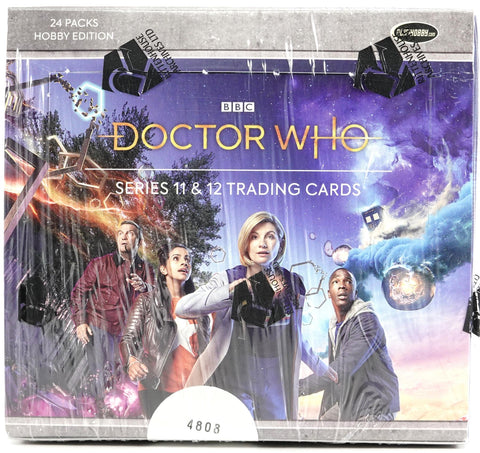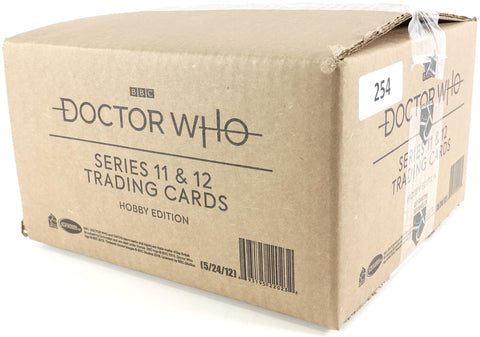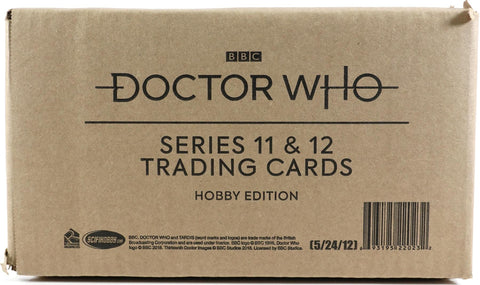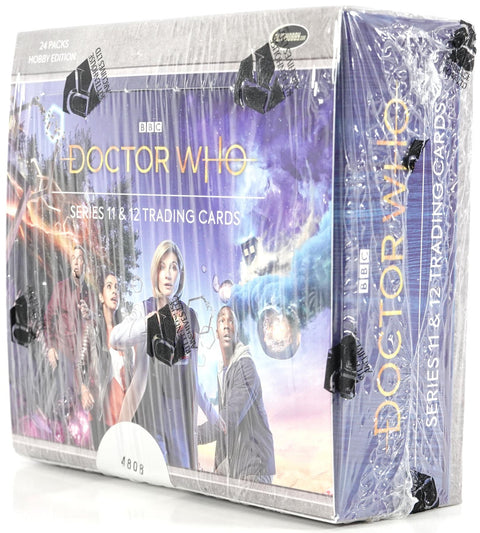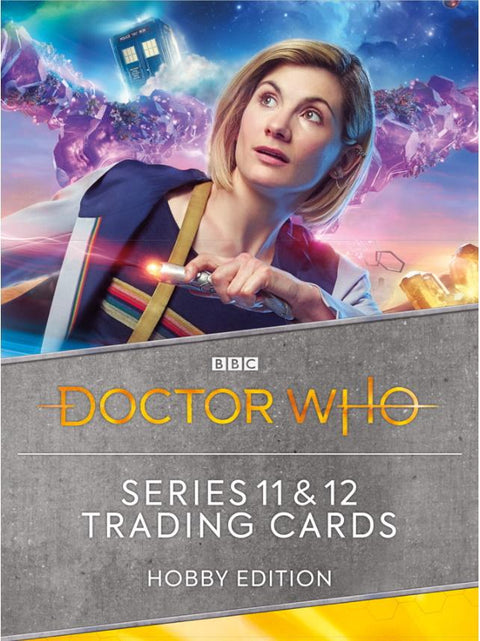 Rittenhouse
Doctor Who Series 11 & 12 Hobby

Each Box contains Four Autograph Cards!


Doctor Who Series 11 & 12 Hobby Edition Trading Cards are highlighted by unique autograph cards and other unique inserts. The edition is limited to 5,000 boxes. All signers have signed on-card and all have both regular and inscription versions!


Look for 60 base cards to collect, Parallel sets, inserts, autographs and more!


PRODUCT BREAKDOWN:

---
BASE CARDS
:
60 base cards, with 3 cards for each of the ten Series 11 episodes and for each of the ten Series 12 episodes. Photos and plot synopses for every episode!
Parallels include
:
- 60 Parallel Base Cards (1:1 packs)
- 60 Gold TARDIS Foil-Stamped Parallel Base Cards (#'d to 99 each) (Hobby Exclusive)
- 60 Red TARDIS Foil-Stamped Parallel Base Cards (#'d to 50 each) (Hobby Exclusive)


INSERT CARDS:
- [16] New Year's Specials Cards (1:24 packs)
- [1] New Year's Special 2021 Poster Card (1:288 packs) (Hobby Exclusive)
- [7] Asia / Realistic Poster Cards (1:48 packs) (Hobby Exclusive)
- [4] The Universe is Calling Cards (1:144 packs) (Hobby Exclusive)
- [5] Heroes of Doctor Who Cards (1:48 packs)
- [9] TARDIS Cards (1:48 packs)
- [4] "Space for All" Metal Portraits Cards (1:288 packs)
- [18] Allies & Adversaries Cards (1:12 packs) (Hobby Exclusive)


AUTOGRAPH CARDS:
- Regular Autograph Cards (1:8 packs) including Hobby Exclusives
- Inscription Autograph Cards (1:24 packs) including Hobby Exclusives


All Autographs Signed On-Card!


Signers Include:
- Jodie Whittaker (The Doctor)
- Tosin Cole (Ryan Sinclair)
- Jo Martin (The Fugitive Doctor)
- Alan Cumming (King James)
- Patrick O'Kane (The Lone Cyberman)
- Mark Addy (Paltraki)
- Robert Glenister (Thomas Edison)
- Bhav Parmar (Sonya Khan)
- Nicholas Briggs (Voice of Daleks)
- Mandip Gill (Yaz/Yazmin Khan)
- Sacha Dhawan (The Master)
- Sharon D. Clarke (Grace O'Brien)
- Brett Goldstein (Astos)
- Paul Kasey (Judoon Captain)
- Samuel Oatley (T'Zim-Sha)
- Sylvie Briggs (Ada Lovelace)
- Anjli Mohindra (Queen of the Skith)
- Seylan Baxter (Tecteun)


CASE TOPPER:
Each case includes on 3-D TARDIS Dectation Card (Hobby Exclusive)


Configuration: 12 boxes per case, 24 packs per box, 5 cards per pack