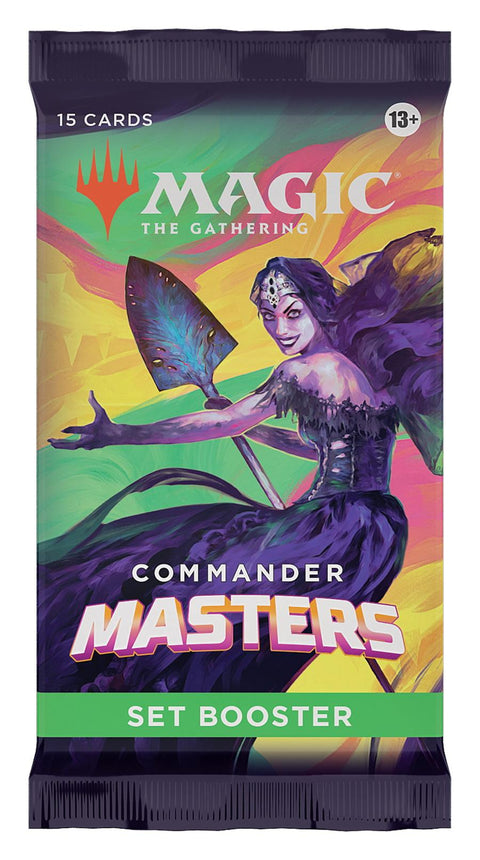 WOTC
Magic the Gathering Commander Masters Set Booster
Set boosters are the go-to for players who love to open boosters just for the fun of seeing what they'll get. Just like Collector Boosters are for collecting and Draft Boosters are for drafting, Set Boosters are for opening packs to see what's inside.
Roll out the red carpet for your Commander! Enhance yout multiplayer decks with some of the greatest cards to ever grace the Commander format. We've also got some surprises in store, with some packs containing special treatment cards destined for starring roles in your collection.


First Masters set for Commander - Masters boosters are super-charged packs full of the finest Magic: The Gathering reprints; Commander Masters brings the first Masters packs specifically designed for Commander, Magic's most popular format.


Best boosters to open just for fun - designed for a fun pack-opening experience, if you want to explore the set by opening packs just to see what you get, Set Boosters are for you.


Set Name: Commander Masters
Number of Cards: Unknown
Configuration: 6 Boxes per Case, 24 Packs per Box, 15 Cards per Pack
Each Commander Masters Set Booster contains:
- [2-6] cards of rarity Rare or higher
- [1] Traditional Foil
- [1] Art Card
- [1-4] Borderless cards
- [2] Legendary Cards, including 1 Rare or Mythic