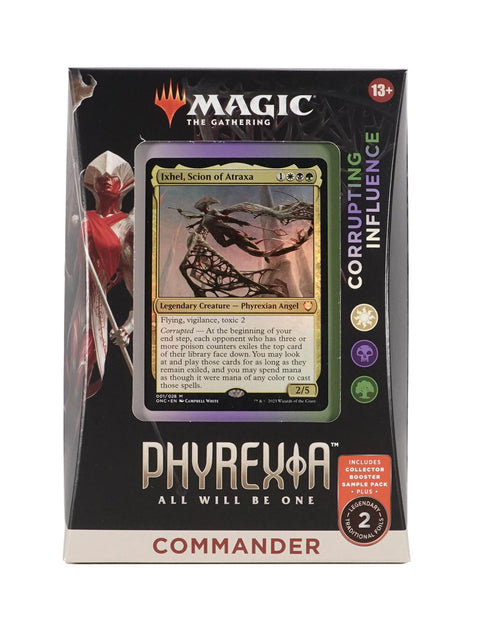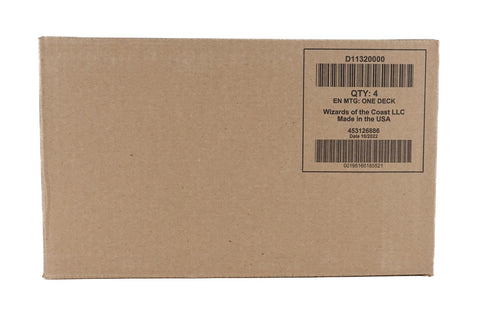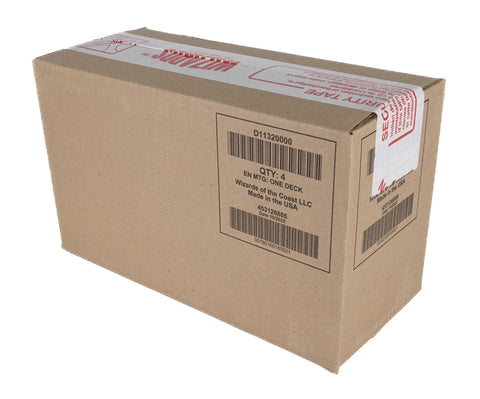 WOTC
Magic the Gathering Phyrexia: All Will Be One Commander Deck
Commander is not only one of the most popular Magic formats but also how a lot of people learn to play. Commander Decks are designed to make learning Magic through Commander a great experience for those new players. These decks are the perfect onramp for folks diving into both Commander and Magic in general.
This Phyrexia: All Will Be One Commander Deck set includes 1 ready-to-play deck of 100 Magic cards (2 traditional foil legendary cards, 98 nonfoil cards), a 2-cards Collector Booster Sample Pack, 1 foil-etched Display Commander (a thick cardstock copy of the commander card with foil etched into the card's border and art), 10 double-sided tokens, 1 deck box (can hold 100 sleeved cards), 1 Life Wheel, 1 strategy insert and 1 reference card.
Contents of each deck
:
- [100] card ready-to-play Commander Deck
- [1] 2-card Collector Booster Sample Pack
- [2] traditional foils
- [98] nonfoil cards
- [1] foil-etched Display Commander
- [10] double-sided tokens
- [1] life tracker
- [1] deck box
Introduces 10 MTG cards not found in the main set


Deck Names and Contents:
... yet to be revealed.