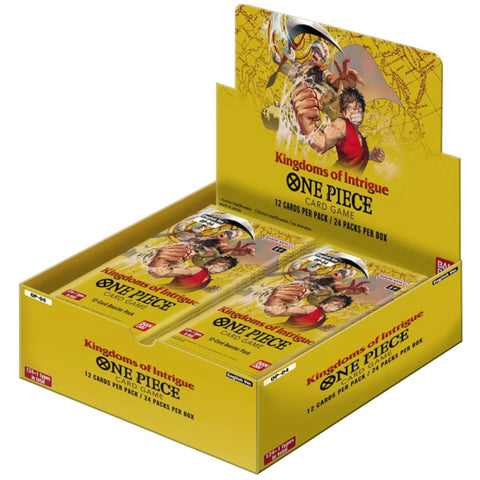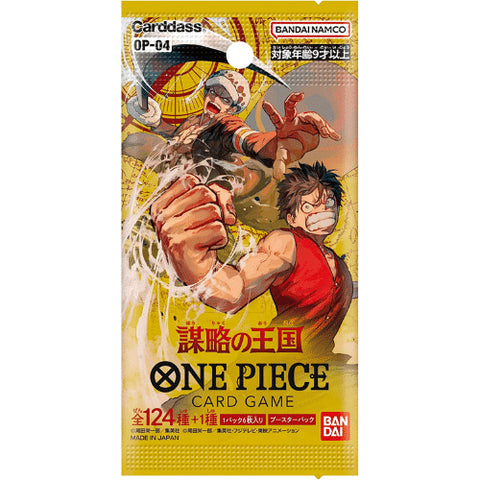 Bandai
One Piece TCG: Kingdoms of Intrigue Booster
The fierce battles of Alabasta and Dressrosa come to life!

Showcases the Beloved Alabasta and Dressrosa Arcs!
This pack centers on the Alabasta and Dressrosa Arcs, long considered by fans to be thematically connected. Both arcs are extremely popular, making this pack attractive to fans of the series who are yet to purchase card products.



Enhancements for 2 August Decks and New Characters!
Many popular characters from the Alabasta and Dressrosa Arcs appear for the first time in this pack! Enhancement cards for 2 decks (Monkey.D.Luffy & Yamato Decks) releasing in August are also included as an incentive to purchase.



Includes Regular Alt-Art Cards and Themed Alt-Art Cards!
In addition to the Alt-Art cards that have proved popular in past packs, this pack features the new themed Alt-Art cards introduces in the previous product release. Their designs are unified under a single theme, enhancing the desirability of this product for collectors.



Set Contents:
- [124+1] Total Cards
- [5] Special Cards
- [6] Leaders
- [45] Commons
- [30] Uncommon
- [26] Rare
- [10] Super Rare
- [2] Secret Rare

*This product also includes alternative art and parallel design cards from the above types.


Configuration: 12 Boxes per Case, 24 Packs per Box, 12 Cards per Pack