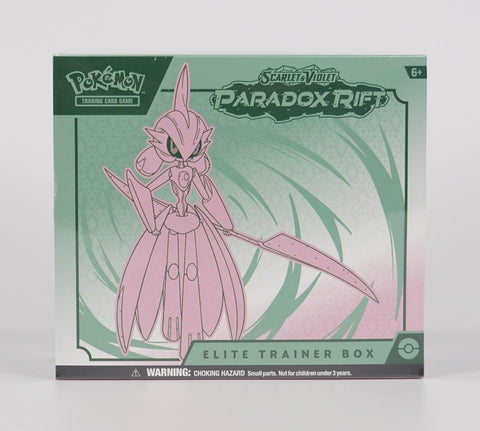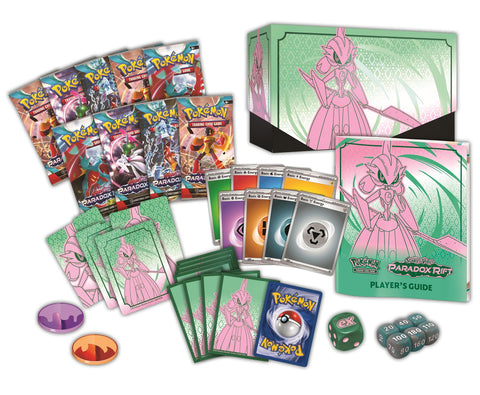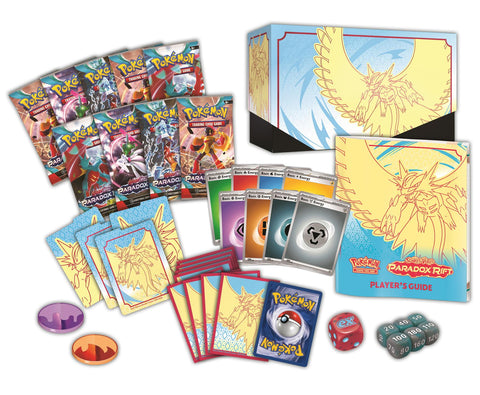 Pokemon USA
Pokemon Scarlet & Violet: Paradox Rift Elite Trainer Box
This set of 2 contains one of each Elite Trainer art style: Iron Valiant & Roaring Moon.


Uncover the Anomalies of Area Zero!


Dive into the clouds and explore a land that appears to be unbound by time! With ferocious attacks, Ancient Pokemon like Roaring Moon ex and Sandy Shocks ex appear alongside artificial Future Pokemon like Iron Valiant ex and Iron Hands ex. Meanwhile, Garchomp ex, Mewtwo ex and others Terastallize to gain new types, as Aramrouge ex, Gholdengo ex and more Pokemon ex join the fray. Adventure awaits as timelines collide in the Pokemon Scarlet & Violet: Paradox Rift expansion!


Each Elite Trainer Box contains:
- [9] Pokemon Scarlet & Violet: Paradox Rift booster packs
- [1] full-art foil promo card featuring Scream Tail or Iron Bundle
- [65] card sleeves featuring Roaring Moon or Iron Valiant
- [45] Pokemon TCG Energy cards
- [1] player's guide to the Scarlet & Violet: Paradox Rift expansion
- [6] damage-counter dice
- [1] competition-legal coin-flip die
- [2] plastic condition markers
- [1] collector's box to hold everything, with 4 dividers to keep it organized
- [1] code card for Pokemon Trading Card Game Live
Configuration: 2 Boxes per Set