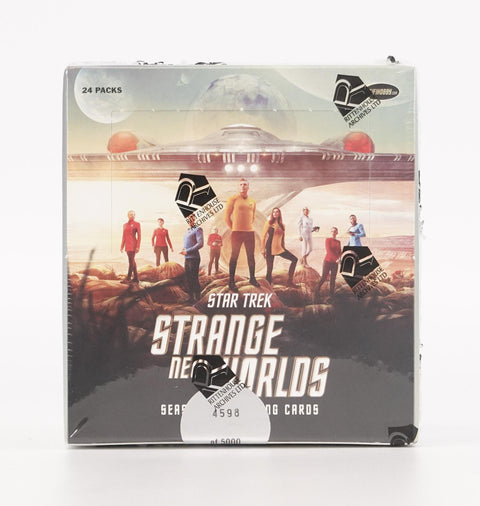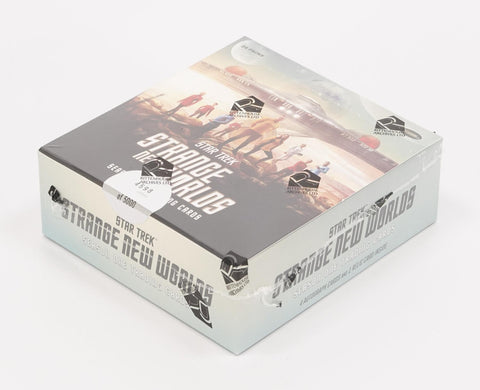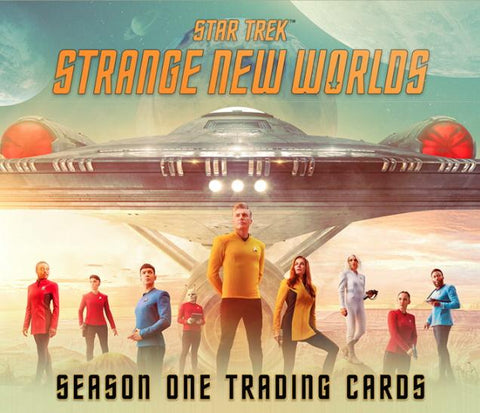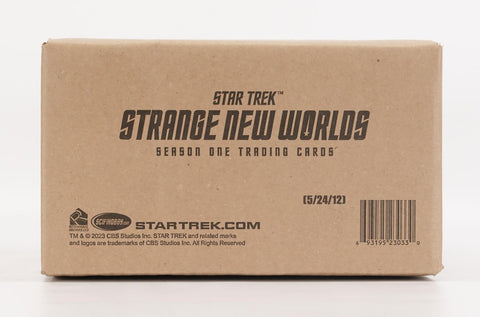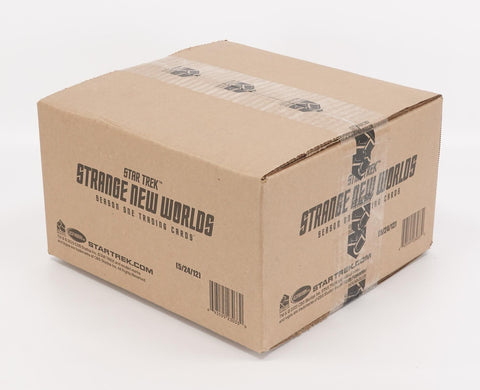 Rittenhouse
Star Trek: Strange New Worlds Season One Hobby (Rittenhouse 2023)
4 Autograph Cards and 1 Relic Card per Box!

Signers include:
- Anson Mount (Captain Pike)
- Melissa Navia (Lt. Ortegas)
- Celia Rose Gooding (Uhura)
- Babs Olusanmokun (Dr. M'Benga)
- Bruce Horak (Hemmer)
- Dan Jeannotte (Sam Kirk)
- Jesse James Keitel (Captain Angel)
- Ethan Peck (Spock)
- Jess Bush (Nurse Chapel)
- Christine Chong (La'an)
- Gia Sandhu (T'Pring)
- Roderick McNeil (Stonn)
- Adrian Holmes (Admiral April)
- Andre Dae Kim (Chief Kyle)

Also look for randomly inserted Autograph/Relic Cards, Dual Autograph Cards and The Elysian Kingdom Autograph Cards!


Set Info: Base Set features 60 cards, with 6 cards for each of the 10 Season One episodes. Photos and plot synopses for every episode!



Bonus Sets include:
- Autograph Cards (1:6 Packs)
- Autograph/Relic Cards (1:288 Packs/1 per Case)
- Costume Relic Cards (1:24 Packs)
- Sketch Cards (TBD)
- 60 Base Gold Parallel Cards (1:1 Packs)
- 60 Base Red Parallel Cards (#'d to 50 each)
- 10 Behind-the-Scenes Cards (1:24 Packs)
- 27 Costume Design Cards (1:8 Packs)
- 18 Storyboard Art Cards (1:12 Packs)
- 8 Cast Cards (1:48 Packs)
- 10 Character Sticker Cards (1:48 Packs)
- 9 The Frontier Awaits Puzzle Back Cards (1:48 Packs)
- 11 Travel Poster Cards (1:24 Packs)
- 9 The Elysian Kingdom Art Cards (1:48 Packs)
- 9 The Elysian Kingdom Art Parallel, Numbered Metal Card (1:288 Packs)
Configuration: 12 Boxes per Case, 24 Packs per Box, 5 Cards per Pack